Oil falls on OPEC uncertainty, economy worry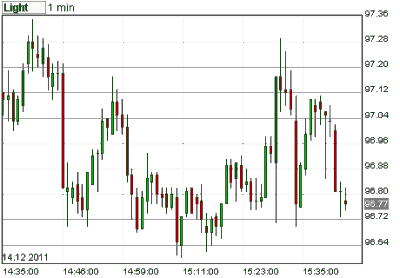 Oil fell $3 on Wednesday after OPEC agreed a high output target without a clear mechanism to reduce production to defend prices, already under pressure from the deepening euro zone debt crisis.
The Organization of Petroleum Exporting Countries agreed a new supply target of 30 million barrels daily, roughly in line with current production in a deal that settles a six-month-old argument over output levels in Saudi Arabia's favor.
However, there was no mechanism in place to cut quotas should already fragile demand grow less fast than expected, and combined with a general bearish tone to the market due to funding worries, prices fell sharply.
Brent crude fell $2.12 to $107.38 a barrel by 1441 GMT after touching a low of $106.35.
U.S. crude fell $2.90 to $97.24. It was on track for its biggest slide in nearly a month. Both contracts gained sharply on Tuesday.
"It is not clear how OPEC will achieve this target and the decision introduces some downside risk to oil prices," said Nic Brown, head of commodity research at Natixis.
"We are potentially moving from a period when OPEC was underproducing to a period when they will have to show a degree of restraint."
Reinforcing the difficulties facing some euro zone governments to raise funds, Italy sold 3 billion euros of five-year government bonds on Wednesday at a yield of 6.47 percent, up from 6.29 percent.
The euro broke 11-month lows versus the dollar below $1.30 after Rome's auction, with foreign exchange markets still speculating that more rating downgrades were in prospect for euro zone governments.
UNCERTAINTY REMAINS
Questions remain over whether the OPEC cap can be enforced, given the fact that Libya is set to increase production substantially next year.
"How will they accommodate the return of Libyan production which could be 1.4 million barrels per day by the end of 2012?" said Christophe Barret, analyst at Credit Agricole Corporate & Investment Bank.
"Will those countries that ramped up production, Saudi Arabia, the UAE and Kuwait agree to cut, or will it be a proportionate cut from all members?"
Highlighting the relevance of these questions, a senior source at the country's National Oil Corporation (NOC) on Wednesday told Reuters Libya's oil exports will surge to over 500,000 barrels per day (bpd) in December.
Tensions remain high between Iran and western powers over the Islamic Republic's nuclear program, a factor which is supporting oil prices on fear of supply disruption.
Iran will move its uranium enrichment plants to safer sites if conditions make this necessary, the semi-official Mehr news agency on Wednesday quoted a senior Revolutionary Guards commander as saying.
Saudi Arabia will not seek to replace Iranian oil in the case of oil sanctions against Iran, Iranian Oil Minister Rostam Qasemi said on Wednesday.
Oil was also under pressure from an industry report that showed crude stocks in the world's largest consumer, the United States, rose 462,000 barrels in the week to December 9, compared with analysts' expectations for a fall of 2 million barrels.
Distillate stocks rose 1.2 million barrels versus a forecast for an 800,000-barrel gain.
Investors will now watch data from the U.S. Energy Information Administration due at 1530 GMT.
Commercial crude stockpiles are expected to have fallen last week due to lower imports and end of the year destocking, an expanded Reuters poll of analysts showed on Tuesday.
Reuters