Geagea: Hezbollah and Syria are behind the security incidents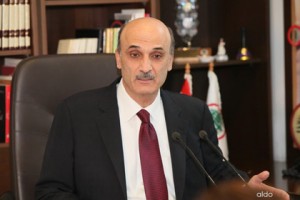 Lebanese Forces leader Samir Geagea on Tuesday said that Hezbollah is responsible for last Friday's attack against French UNIFIL soldiers and Sunday night's rocket launch from the South and that United Nations Interim Force in Lebanon's mission in the South has been curtailed due to Hezbollah's continued presence in the area.
During a press conference, Geagea said that it is the job of the competent authorities to uncover the assailants stressing that Hezbollah is directly or indirectly responsible for all the attacks and developments that take place in the South.
The LF leader also accused Hezbollah and Syria of creating proxy "terrorist" cells to use in conducting the attacks.
Five French members of UNIFIL were wounded Friday when a bomb targeted their patrol near the the coastal city of Tyre. One Lebanese civilian was also wounded.
A French U.N. patrol was also attacked on July 26 and Italian peacekeepers were targeted on May 27.
UNIFIL Force Commander Major-General Alberto Asarta Cuevas denounced the attacks but vowed it would not deter his troops from fulfilling their mandate.
France on Sunday accused Syria and its ally Hezbollah of being behind Friday's attack.
"We have strong reasons to think that this attack came from Syria," said French Foreign Minister Alain Juppe, noting that Damascus used Hezbollah for such attacks in the past.
Also, a rocket launched Monday overnight in the South landed in the Lebanese border town of Hula.
The LF leader also commented on the abduction and release of Liban Lait company CEO Ahmad Zaidan.
"Zaidan was released, and the security forces knew the geographical spot where he was captured; so is it possible that the competent authorities could not know who kidnapped him?"
"How can the citizens trust their state amid all these developments?" Geagea said
Geagea concluded by saying :
"Stability in Lebanon can therefore only be established through eliminating all armed groups outside the state's control and getting rid of the magical magical curse of [the formula of] of the army, people, and Resistance," and replace it with the formula of 'the unity of people, state and army.'"