Hezbollah slams French accusations over UNIFIL blast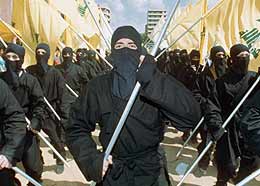 Hezbollah condemned on Monday the accusations by French Foreign Minister Alain Juppe who accused the party and Syria of involvement in the latest attack on French U.N. peacekeepers in southern Lebanon.
"Juppe made blatant accusations against Syria and Hezbollah and he himself acknowledged that he had no proof to substantiate his allegations," Hezbollah said in its statement.
The party called on Juppe to "correct his position" and be aware of the "seriousness of the accusations."
France's foreign minister said on Sunday he suspects that Syria was behind a bombing that wounded five French troops in Lebanon. A Lebanese bystander was also hurt in Friday's attack on a vehicle carrying the U.N. peacekeepers. Alain Juppe told RFI radio on Sunday that France had "strong reason to think that this attack comes from there." He said France believes Hezbollah was involved but has no proof.
Similarly other Lebanese leaders accused Syria of being behind the attack.
Syria was also accused by Lebanese leaders as being behind the rocket attacks in south Lebanon .
Progressive Socialist Party leader MP Walid Jumblatt called the firing of the rocket from south Lebanon " a message addressed from our neighbors to France". His comment came hours after French foreign minister accused Syria of involvement in Friday's bomb attack on French peacekeepers in southern Lebanon.
Jumblatt who defected from March 14 alliance even called on Hezbollah to distance itself from the Syrian regime Syrian and called on the party's leader to convince Damascus to agree to the Arab League's initiative to end unrest in the country.
"I advise Hezbollah not to be completely attached to the Syrian regime and [Hezbollah] should advise the regime that the best solution lies in the Arab League initiative and for it to abandon security measures," Jumblatt told Al-Majalla magazine in an article published over the weekend.
"[Hezbollah leader] Sayyed Hasan Nasrallah should advise [Syrian President] Bashar Assad of the need to implement reforms for a populist, democratic Syria that is open to all political movements," he added.
Nasrallah, a close ally of Syria in Lebanon, has repeatedly voiced support for the Syrian leader and, like Assad, says Lebanon's neighbor is facing a conspiracy aimed at toppling the pro-resistance government. While acknowledging the need for reform in Syria, Hezbollah has criticized Arab efforts to end the crisis in the country, arguing that many Arab states have yielded to a Western agenda against Assad.
"I don't agree with Nasrallah. There is no conspiracy in Syria. The regime has made a fatal mistake against citizens in Deraa and it was not resolved and no one was held accountable for the crimes," said Jumblatt, who earlier this year realigned with Hezbollah.