Cabinet approves a citizenship law for people of Lebanese origin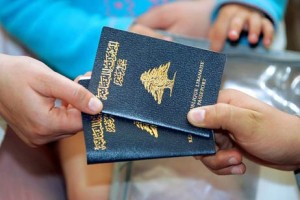 The Lebanese cabinet on Monday approved a draft law that allows people of Lebanese origin to acquire Lebanese citizenship , Minister of Information Walid Daouq told reporters according to a report by MTV.
Daouq also said that the cabinet was still discussing the electoral draft law which is based on proportionality.
The issue of wage increases was not reportedly discussed despite Hezbollah ministers ' insistence over revising the draft law that was approved last week he told reporters
He also said that President Michel Suleiman voiced the importance of resuming the investigation into last week's attack against UNIFIL in order to reveal who stands behind the incident regardless of their identity
"Security forces have the authority to enforce the law all over Lebanon , and no one will be covered no matter how important they are," Daouq quoted the president as saying.
Five French UN soldiers and a Lebanese civilian were wounded last Friday by a powerful blast that targeted a UNIFIL patrol in Tyre.
France's foreign minister Alain Juppe said on Sunday he suspects that Syria was behind a bombing that wounded five French troops in Lebanon. A Lebanese bystander was also hurt in Friday's attack on a vehicle carrying the U.N. peacekeepers. Alain Juppe told RFI radio on Sunday that France had "strong reason to think that this attack comes from there." He said France believes Hezbollah was involved but has no proof.
Informed security sources said that Juppe's accusation stemmed from initial international investigations that point to Syria's involvement in the UNIFIL attack.
A security official revealed to AFP that investigations are focusing on two suspects who were spotted in a Mercedes near the area of the explosion about an hour before it took place.