French accusations put Syria's allies in spotlight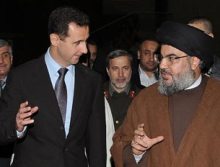 France says it believes Syria was behind an attack on U.N. peacekeepers in south Lebanon. While Paris has no proof, Damascus has plenty of armed supporters who might try to destabilize Lebanon to divert attention from its own turmoil.
Foreign Minister Alain Juppe blamed Syria on Sunday, singling out its powerful Lebanese ally Hezbollah which holds sway in southern Lebanon where five French soldiers were wounded in an explosion that wrecked their patrol vehicle last week.
Syria and Hezbollah both denied the charge on Monday, but Syria's Lebanese opponents have accused Damascus of trying to stir up trouble through proxies who also include Palestinian groups in refugee camps and pro-Syrian political groups.
Analysts said the French accusation was part of an escalating showdown between Western powers demanding President Bashar al-Assad halt the violence in his country, and Syria and its allies, including Iran and Hezbollah.
"France considers itself now as spearheading the campaign against Syria," Lebanese analyst Oussama Safa said. "I think the French see these attacks in the context of this confrontation, and (a sign of) Syria's tentacles in the region."
Friday's bombing near the southern city of Tyre was the third attack on UNIFIL forces in Lebanon since the outbreak of protests in neighboring Syria in March. Prior to that, the last attack took place three years earlier in January 2008.
It also followed a rare volley of rockets fired across Lebanon's southern border into Israel two weeks ago. Another rocket fired on Sunday night failed to cross the frontier, wounding a Lebanese woman in a border village, the army said.
Hezbollah, which fought a 34-day war with Israel in 2006 leading to UNIFIL being beefed up in southern Lebanon, condemned the attack, saying it aimed to destabilize the area. It said Juppe's accusation was a "great injustice which we completely reject."
Syria's foreign ministry also denied any link to the attack and accused France of fabricating charges against Syria.
"MESSAGE FROM BASHAR"
But anti-Syrian politicians in Lebanon were even quicker than France to point the blame at Damascus.
"Another Syrian message from Bashar," tweeted former Prime Minister Saad al-Hariri, who was ousted in January when Hezbollah and its pro-Syrian political allies resigned from his unity government.
Hariri did not say exactly who he thought carried out the attack, but Syria has allies in Lebanon where it maintained a military presence for nearly three decades before withdrawing under international pressure in 2005.
"I don't know whether it's Hezbollah or someone else. But if you assume it's a Syrian message, Syria has lots of proxies in Lebanon and it could be any of them," said Sahar Attrache, an analyst with the International Crisis Group.
"But I would also assume that Hezbollah wouldn't mind these sort of messages being sent."
Safa said that although Friday's attack might "not have "Hezbollah fingerprints on it," the powerful military and political group had extensive control in southern Lebanon. "I'd be very surprised if Hezbollah didn't know about it," he said.
If Hezbollah was not involved, there was "no shortage of groups that could be manipulated by the Syrians or by anyone else," he said. "There are a lot of groups for hire in the Palestinian camps, but Syria still maintains a very strong infrastructure for such acts."
Some analysts were surprised that Juppe should make such direct accusations when he conceded he had no proof.
"I don't see why Hezbollah at this time would be targeting a European country. I don't see what Hezbollah has to gain," said Timor Goksel, a former UNIFIL spokesman who is now a professor at the American University in Beirut.
He said it was unlikely Syria would want to antagonize France just days after Paris had sent its ambassador back to Damascus. "The accusation is very serious. Why would they take such a risk?" he said.
Goksel said he believed recent attacks were the work of "very small groups trying to put themselves on the map. I see it mainly as fundamentalist or extremist groups."
Shadowy Islamist groups have also claimed responsibility for rocket attacks against Israel in the past.
Reuters