ElBaradei's tells Islamists: Slogans are not enough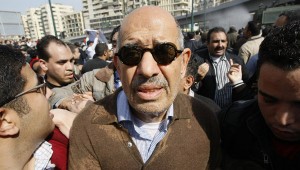 EGYPT has wrapped up the opening round of the first parliamentary elections since Hosni Mubarak's fall, with Islamists winning a landslide victory at the expense of weakened and divided liberals.
Turnout appeared low for the final day of run-off elections between individual candidates standing for the new parliament, which is to be chosen in a further two stages over coming months.
In voting last week for the new parties to be represented in the assembly, Islamists led by the influential Muslim Brotherhood as well as a new hardline Salafi movement picked up 65 per cent of ballots cast.
The prospect of an Islamist-dominated parliament raises fears among activists about civil liberties, women's rights and religious freedom in a country with the Middle East's largest Christian minority.
US Secretary of State Hillary Clinton urged the new Islamist power brokers to "embrace democratic norms and rules" and respect women's rights and free religious practice.
"We expect all democratic actors and elected officials to uphold universal human rights," she said in a speech to the Organisation of Security and Cooperation in Europe.
slogans are not enough
Liberal presidential candidate Mohamed ElBaradei accused the Islamists of relying too heavily on slogans which he said would soon become apparent if they gained power.
"Let them govern and have their chance. People will realise that slogans are not enough," Mr ElBaradei said in an interview published by the independent newspaper Al-Shuruq.
The liberal movement emerged with 29.3 per cent of the party vote in the first round, but it is split between six different coalitions and has been overshadowed by the more organised Islamist groups.
Mr ElBaradei's main rival to be president, former Arab League head Amr Mussa, called for the Islamist parties to embrace the principles of democracy and modernity.
"We cannot talk about democracy and then object to the results. Democracy is about what the people want," he said in Dubai. "But for those elected to power, they must understand that… they need to join this era and not disengage from it."
Mr ElBaradei also stepped up his criticism of the military rulers who took power after the toppling of Mr Mubarak in February, accusing them of mishandling the process of ushering in democracy in the Arab world's most populous nation.
"We live today in a fascist system with military tribunals and emergency law, and if there is another round of the revolution it will be full of anger and violence," he said.
"The situation is going from bad to worse after the failure of the military council in managing the transition process," said Mr ElBaradei, adding that young Egyptians were "completely despondent because nothing has changed".
The army rulers have chosen a highly complex election process to elect a new upper and lower parliament as well as a president that will end only in June next year under the current timetable.
The first of the three rounds of voting to choose the lower house of parliament has revealed various problems in a country with a long history of electoral abuse during the Mubarak era.
On Monday, after a confusing delay of several days in releasing results, the election commission dramatically revised the turnout level from a "record" 62 per cent announced last week to 52 per cent.
It also said results from several polling stations in Cairo would be cancelled because of violations, meaning voting in these areas will be rerun in January.
The leader of the Muslim Brotherhood has threatened street protests if there is any attempt to manipulate results.
"We will take to the streets if there is any cheating in the elections or manipulation of the constitution," its leader Mohammed Badei was quoted as saying in Egyptian media.