Clinton urges Syria opposition to respect minorities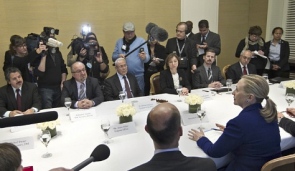 U.S. Secretary of State Hillary Clinton urged the Syrian opposition on Tuesday to build a society based on rule of law and respect for minority rights so that Syria is no longer subject to "the whims of a dictator."
Clinton delivered the message as she met six members of the Syrian National Council (SNC), an exile group seeking to pave the way to a democratic transition to end the 41-year rule of Syrian President Bashar al-Assad and his late father.
Among Syrians reluctant to see a change of leadership are many members of substantial religious minorities, including Assad's minority Alawite sect and Christians, who fear a new government may be dominated by Sunni Muslim Islamists.
Separately, the United States on Tuesday said it would send its ambassador to Syria, Robert Ford, back to Damascus six weeks after he was pulled out because of concerns about his safety.
What began nine months ago as peaceful protests against Assad, inspired by the Arab Spring in Tunisia and Egypt, has slid closer to civil war as armed opposition groups organize.
At least 4,000 people have been killed in the violence, according to the United Nations.
Meeting Syrian exiles for the second time in six months, Clinton stressed the importance of protecting minority rights in a country whose Sunni majority has long been dominated by Assad's Alawites. Their sect is an offshoot of Shi'ite Islam, the religion of Assad's allies in Iran and Lebanon's Hezbollah.
Some Syrians fear a collapse of Assad's rule could lead to the kind of sectarian and ethnic warfare seen in neighboring Iraq after the overthrow of Saddam Hussein in 2003.
ASSAD'S "DIVIDE AND CONQUER APPROACH"
"Obviously, a democratic transition includes more than removing the Assad regime. It means setting Syria on the path of the rule of law and protecting the universal rights of all citizens, regardless of sect or ethnicity or gender," Clinton said sitting opposite six SNC members at a Geneva hotel.
A seventh opposition member who did not wish to be identified because of security concerns was to join later.
"The Syrian opposition that is represented here recognizes that Syria's minorities have legitimate questions and concerns about their future and that they need to be assured that Syria will be better off under a regime of tolerance and freedom that provides opportunity and respect and dignity on the basis of … consent rather than the whims of a dictator," Clinton said.
"We will discuss the work that the council is doing to ensure that their plan is to reach out to all minorities to counter the regime's divide and conquer approach, which pits ethnic and religious groups against one another," she added.
The State Department identified the six opposition members as the Syrian National Council's president, Burhan Ghalioun, and SNC members Abdulahad Astepho, Najib Ghadbian, Bassma Kodmani, Wael Merza and Abdulbaset Sieda.
Ghalioun has previously said that a post-Assad Syria would align itself with the Arab League and the Gulf, and would end its special relationship with Iran and Hezbollah. Like Iraq, Syria lies on a faultline in an intensifying confrontation between Shi'ite Iran and Sunni Arab states like Saudi Arabia.
Like Iraq, Syria is also home to substantial religious and ethnic minorities, including Christians and Kurds.
The U.S. decision to send its ambassador back to Syria came as something of a surprise.
Ford had antagonized Syria's government with his high-profile support for anti-Assad demonstrators and Assad's supporters had attacked the U.S. embassy and Ford's motorcade.
The ambassador left Syria on October 24 as a government crackdown on protesters and the armed insurgency against Assad intensified, prompting Syria to follow suit and have its envoy in Washington return for consultations.
Ford had been due to return to Damascus by the November 24 U.S. Thanksgiving holiday but the State Department postponed this, citing the continued crackdown, decisions by other nations to pull their own envoys out of Syria and the question of whether Ford could move around and be effective in Syria.