France not interested in leading UNIFIL mission
According to a report published in Le Figaro Newspaper on Saturday, France is not interested in leading the United Nations Interim Force in Lebanon (UNIFIL) , for fear that its contingent could be a possible target of attacks if the situation on the Israeli-Lebanese border deteriorated.
Three European countries that have the wider participation in the UNIFIL; they are Italy, Spain, and France. Italy was the first to lead followed by Spain and now it is France's turn .
"It is better to stay in the shadows when the French diplomacy is taking a major role in the campaign against the Syrian regime," military sources told Le Figaro.
The command of UNIFIL will be vacant in early 2012.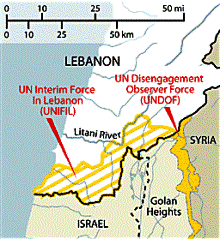 France considers that the UNIFIL mission is "incapable of carrying out its tasks … due to the reduced freedom of movement and the humiliation of the soldiers" in the south, the newspaper said in a possible reference to Hezbollah's active role in south Lebanon despite UN resolution 1701.
Approximately 1,300 French soldiers are part of the UNIFIL mission in southern Lebanon, supporting the Lebanese Army and monitoring a ceasefire with Israel, but French army leaders call the UN mission in Lebanon more "complicated" than the one in Afghanistan.
"Our mission in Afghanistan is the toughest because of the number of dead and wounded that we suffer, but in Lebanon it is more complicated," French Chief of Staff – Admiral Edouard Guillard told the French parliament's Defense Committee on October 5.
He pointed to regular attacks on the peacekeepers by armed civilians who steal their documents and equipment, saying these kinds of "provocations" put his soldiers under "real pressure".
According to the general part of the ongoing problem in Lebanon stems from the fact that the Lebanese Islamist group Hezbollah has refused to disarm as stipulated by the 2006 ceasefire agreement (resolution 1701).
Hezbollah is closely allied with Iran and Syria and has been defending the syrian regime in its brutal crackdown against the pro-democracy protesters . over 4000 Syrians have been killed since the protests began last March