MP Helou: The way Lebanon paid STL is illegal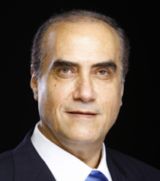 Free Patriotic Movement MP Michel Helou said on Thursday that the way Lebanon's government paid its share of funding the Special Tribunal for Lebanon (STL) was "illegal".
Helou told OTV television station that Lebanon's Central Bank is not allowed to grant loans to the public sector, unless faced with an exceptional situation.
"What happened was illegal," Helou stressed.
PM Nagib Mikati according to An Nahar asked Central Bank governor Riad Salameh to open an account for the High Commission for Relief and have the funds transferred through it on behalf of the Lebanese government . $ 32 million and 134 thousand U.S. dollars was wired as Lebanon's share for funding STL.
According to sources close to the PM the deal he agreed to with Speaker Nabih Berri with the blessing of Hezbollah was to use the discretionary fund allocated to the premier in the budget