Russia delivers anti-ship missiles to Syria, report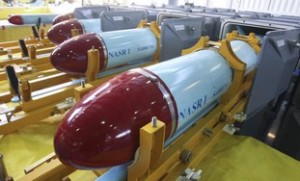 Russia has delivered anti-ship cruise missiles to Syria, the Interfax news agency cited an unnamed military source as saying on Thursday, days after a United Nations commission of inquiry called for an arms embargo on Damascus.
Economic and diplomatic pressure has isolated Syrian President Bashar Assad following a nine-month government crackdown against protesters in unrest the United Nations says has killed more than 4,000 people.
Moscow has spoken out against further sanctions imposed by Western and Arab League states, and it has defended its right to sell Syria weapons — tens of millions of dollars worth last year.
"The contract was completely fulfilled, almost ahead of time," Interfax cited the source as saying of the deal, estimated at $300 million. The source did not say when the deliveries had taken place.
Russian Defense Minister Anatoly Serdyukov said in February that Moscow was pressing ahead with the deal despite Israeli concerns, indicating the missiles might have been delivered earlier this year.
"This weapon allows coverage of the entire coastline of Syria from possible attack from the sea," Interfax quoted the source as saying.
Russia teamed up with China in October to veto a Western-backed UN Security Council resolution condemning Assad's government. Russia said the resolution could have opened the door to Western military intervention like in Libya, where it says NATO overstepped its Security Council mandate.
A United Nations commission of inquiry said on Monday that in cracking down on protesters, Syrian military and security forces had committed crimes against humanity including murder, torture and rape, and called for an arms embargo on Syria.
Earlier this week, Russian newspaper Izvestia reported that Russia planned to send its aircraft carrier and other ships to Syria.
Besides accounting for 7 percent of Russia's total of $10 billion in arms deliveries abroad in 2010, according to Moscow defense think-tank CAST, Syria also hosts a Russian naval maintenance facility.
Russia traditionally used what influence it still has in the Middle East as a lever in diplomatic maneuvering with Europe and in particular the United States.
Israel has voiced concerns over the contract for sale of the rockets, capable of hitting ships 300 km (190 miles) off Syria's coast. Hezbollah used a surface-to-air missile in the 2006 Israel-Lebanon War to hit the INS Hanit warship, killing four sailors.
Reuters