Seven soldiers, six civilians dead in Syria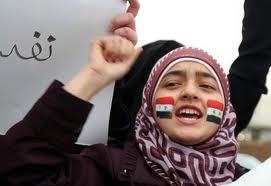 Seven Syrian soldiers were killed by army renegades and six civilians were shot dead on Wednesday as regional pressure tightened on President Bashar al-Assad with Turkey imposing tough economic sanctions on Damascus.
The conflict, which began in spring as a one-sided crackdown on peaceful anti-government protests, is now sliding toward civil war. Soldiers are defecting with their weapons to take on Assad loyalist troops.
Piling pressure on Assad, Syria's biggest trade partner Turkey suspended all financial credit dealings with Damascus and froze its assets, joining the Arab League in isolating Assad over the military crackdown.
The Syrian Observatory for Human Rights said clashes erupted in the southern town of Dael when security forces moved in during the early morning, and continued well into afternoon.
"Two security force vehicles were blown up. Seven (troops) were killed," said Rami Abdel Rahman, head of the observatory, adding that 19 people were wounded, four critically.
An activist from the town, in the province of Deraa, said some 30 busloads of security men had stormed into Dael but two of the buses were blown up in fighting between security forces and defectors, the Observatory said. One bus had been empty.
In the north of Syria, at least six civilians were shot dead Wednesday when security forces broke up an anti-government demonstration in the city of Idlib, the Observatory said.
"They have not blocked protests in Idlib for weeks. Today they fired at a crowd thousands who were marching from a roundabout to the main Mohafaza Square," said Fares, an activist who helped transport three of the injured to Turkey.
FUNERALS
Turkey's move follows a decision by the Arab League on Sunday to impose sanctions on Damascus over the crackdown. The European Union weighed in one day later.
Turkey, a NATO member with a 900 km long border with Syria, says it does not want military intervention in Syria but was ready for any scenario.
Foreign Minister Ahmet Davutoglu said Turkey would block delivery of all weapons and military supplies to Syria. Relations with Syria's central bank were suspended and a cooperation agreement was halted until there was a new government in place.
"Until a legitimate government which is at peace with its people is in charge in Syria, the mechanism of the High Level of Strategic Cooperation has been suspended," Davutoglu said.
Assad's rule had reached "the end of the road," he said.
Muslim Turkey, which last year had $2.5 billion in bilateral trade with Syria, was once one of Assad's closest allies, but Prime Minister Tayyip Erdogan lost patience with him. Turkey now hosts Syrian army defectors and opposition group.
Syria does not admit most foreign journalists. It says it is fighting an insurgency by armed groups supported from abroad, who have attacked its troops trying to defend the peace.
Military funerals were held for 14 members of the army and security forces Tuesday, evidence of the rising cost of its battle to smother the revolt inspired by Arab uprisings that toppled the leaders of Tunisia, Egypt and Libya this year.
"The martyrs were targeted by armed terrorist groups while they were in the line of duty in Homs and the Damascus countryside," the state news agency SANA said.
Rebels Tuesday ambushed an army vehicle in the north killing three soldiers, the Human Rights Observatory said. it said the vehicle was targeted by "suspected army defectors."
PRISONER RELEASE
Under the terms of an Arab League deal aimed at ending the violence, Syria agreed earlier this month to withdraw the army from urban centers, release political prisoners, launch a dialogue with the opposition and admit foreign observers.
Syria said it had freed 912 prisoners held for taking part in anti-Assad protests, SANA reported. Those liberated did "not have Syrian blood on their hands." The move appeared to be a gesture toward Arab League calls for an end to the crisis.
Some 1700 prisoners were released earlier this month, SANA said.
United Arab Emirates Foreign Minister Sheikh Abdullah bin Zayed al-Nahayan said he was still hoping Syria would admit observers and avoid sanctions due to be finalized by Saturday.
European and Arab diplomats say the top United Nations human rights forum will paint a grim picture of events in Syria at a special session Friday which is likely to condemn the Syrian government for crimes against humanity.
A U.N. report said Monday Syrian forces have committed murder, torture and rape against pro-democracy protesters. The U.N. says more than 3,500 people have been killed since March.
Friday's session is partly designed to put pressure on China and Russia, which have blocked measures by the Security Council to condemn Syria, to take a stronger stand, say diplomats.