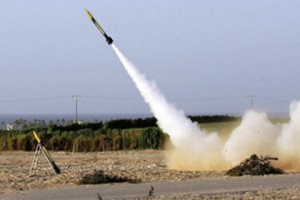 A security camera recorded Monday night the launching of two Grad rockets from Lebanon and also shows that they landed in Israel near Aita al Shhab and Rmaish . The cameras also show that Israel responded by firing 6 artillery shells that landed in the outskirts of Aita al Shaab , Debel and Haneen in south Lebanon.
"Al-Nahar" also found out from a security source that one Traffic camera has pictures of a car that belongs to a house adjacent to where the rockets were launched from and these pictures are in the custody of the relevant agencies and will be used to uncover the perpetrators.
Abdullah Azzam Brigades, an Al Qaeda affiliate claimed responsibility for one rocket launched from south Lebanon into Israel , OTV reported on Tuesday . It said in a statement that the rocket had "hit the targets " adding it was the eighth rocket attack since the war between the Jewish state and Hezbollah ended in August 2006.
No one claimed responsibility for the other rocket, however the Lebanese government claimed that only one rocket was fired from Lebanon.
On the other hand Israel claimed that three rockets were fired from Lebanon