Petrol bombs hurled in Cairo's Tahrir Square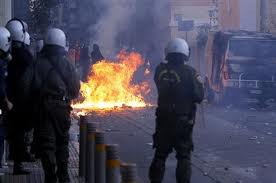 Unidentified youths hurled petrol bombs in Cairo's Tahrir Square on Tuesday as Egypt concluded the first phase of largely peaceful voting in the first election since the downfall of Hosni Mubarak, television pictures showed.
A spokesman for one of the groups that has organised a sit-in protest against the ruling military council said youths without any identification had tried to come into the square, which had been the heart of protests that toppled Mubarak.
Mohammed al-Saeed, speaking to Egyptian state television, said the protesters had organised volunteer security groups "to protect people and families in the square" from the youths.
It was unclear just who threw the petrol bombs and what motivated them, but state television said the clash had involved street vendors. Earlier, there were scuffles involving the street vendors in the square.
The protesters have been staging a sit-in in Tahrir Square for 11 days to demand an immediate end to military rule. The protests triggered Egypt's most volatile week since Mubarak was ousted, with 42 people being killed.
The protesters say the generals are trying to manipulate their position to preserve power and privilege. The generals say they will hand power to an elected president by mid-2012.
The television footage showed several petrol bombs arching through the night sky and shattering and exploding on the road right by the Egyptian musuem and close to the protesters' encampment. It was not clear if there had been any injuries.
Further details of the incident were not immediately available.
In an earlier sign of tensions in the square, scuffles flared between dozens of street vendors who have been selling goods to the protesters camped out there.
The flare-up prompted medics working in the square to step in to stop the scuffles, they said. Some of those involved in the brawl wielded sticks and vendors' stalls were damaged.