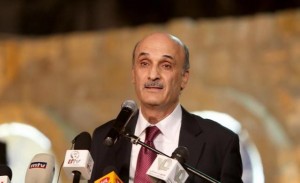 Hezbollah and its allies "can no longer claim" that the Special Tribunal for Lebanon (STL) is an Israeli-US court Lebanese Forces leader Samir Geagea said in a statement on Wednesday after Prime Minister Najib Mikati announced that he transferred the funds to STL
"Mikati's stance came as his official position as the Lebanese premier, so whether we want it or not, Hezbollah and its allies recognized the STL since they are the majority in the cabinet," Geagea said
"Hezbollah and its allies can no longer claim the tribunal is an Israeli-US court, and Change and Reform bloc leader MP Michel Aoun can no longer say the tribunal harms Lebanese sovereignty."
Geagea also said that if Hezbollah has the "least amount of credibility," then it should recognize the STL by handing over the four Hezbollah indicted members in the UN-backed court.
"The third step is to follow up on the tribunal's procedures" on a legal basis, he added.
"We still call on this cabinet to resign because it funded the STL based on a Syrian political decision…That is why it should resign today before tomorrow."
Mikati announced on Wednesday that he transferred Lebanon's annual share of funding to the UN-backed court probing the 2005 murder of former PM Rafik Hariri but did not explain how he was able to do it without the approval of the cabinet
According to sources close to the PM the deal he agreed to with Speaker Nabih Berri with the blessing of Hezbollah calls for to using the discretionary fund allocated to the premier in the budget
Geagea also said the Lebanese army, state and UNIFIL should be held responsible for Tuesday's rocket launch from the South, adding that "illegitimate arms" should be confiscated.
He is referring to the rocket exchange with Israel following the firing of 2 rockets from south Lebanon Monday night towards Israel.
A security camera recorded Monday night the launching of two Grad rockets from Lebanon and also shows that they landed in Israel near Aita al Shhab and Rmaish . The cameras also show that Israel responded by firing 6 artillery shells that landed in the outskirts of Aita al Shaab , Debel and Haneen in south Lebanon according to a report by An Nahar
This error message is only visible to WordPress admins
Error: No connected account.
Please go to the Instagram Feed settings page to connect an account.