Mikati invites pope to visit Lebanon during Vatican audience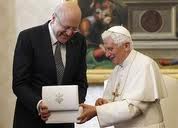 Lebanon's prime minister has invited Pope Benedict XVI to visit his country, which the Vatican sees as an important symbol of religious coexistence in the Middle East.
Prime Minister Najib Mikati met with Benedict for about 20 minutes Monday during an overnight visit to Rome that also included talks with the new Italian foreign minister.
The Vatican said the discussions touched on the crisis in Syria and "the need for all parties to commit themselves to peaceful coexistence founded on justice, reconciliation and respect for the dignity of human beings and their inalienable rights."
Members of Mikati's delegation said he extended an invitation to Benedict to visit Lebanon. There was no word from the Vatican, but such a trip has been rumored.