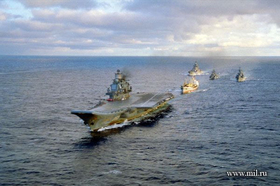 In December a vessel group led by the Northern Fleet's aircraft carrier "Admiral Kuznetsov" will sail to the Mediterranean and the Russian naval base of Tartus in Syria.
The mission has nothing to do with the deadly violence in Syria between forces loyal to President Bashar Assad and the opposition, a naval spokesman told Izvestia.
– This was planned already in 2010 when there were no such events there. There has been active preparation and there is no need to cancel this, the spokesman said, adding that "Admiral Kuznetsov" will also visit Beirut, Genoa and Cyprus.
Russia and the West have become deeply split over the situation in Syria, with Moscow insisting that sanctions and pressure against the Assad regime is not the way to solve the crisis.
"Admiral Kuznetsov" and the destroyer "Admiral Chabanenko" have just finished an exercise in the Barents Sea as part of the preparations for the mission.
The Tartus base was established in Soviet times, and is occasionally used by Russian vessels today. Currently no Russian ship is based there although civilian and military personnel are present. The naval logistics support base in Syria is now part of the Black Sea Fleet.
"Admiral Kuznetsov" conducted a similar mission in 2008. The vessel then left Murmansk on December 5th only to return to Severomorsk three months later, after visiting ports in Turkey and Syria, BarentsObserver reported.
Tartus was also visited by the Northern fleet's flag vessel, the nuclear cruise "Pyotr Veliky" in April 2010, on its way to a large-scaled Navy drill in the Indian Ocean.
The Northern fleet destroyer "Severomorsk" visited the Syrian port of Tartus earlier this week on her way back to the north after termination of a anti-piracy mission in the Gulf of Aden.
According to ITAR-TASS, Commander-in-Chief of the Russian Navy Admiral Vladimir Vysotsky last week conducted a three-day working visit to the Northern Fleet, in order to check the readiness of the naval aircraft carrier group before the mission to southern waters.