Will Mikati quit on November 30?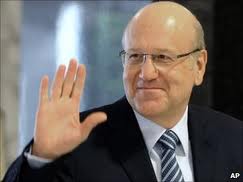 The big question in Lebanon right now is: "Will the prime minister resign following the cabinet session on November 30 if he fails to secure the needed funding for the UN backed Special Tribunal for Lebanon?"
March 14 MP Assem Aaraji predicted on Saturday that "Prime Minister Najib Mikati will submit his resignation on November 30."
"November 30 is an important date for Mikati, he will submit his resignation and the government will become a caretaking one," Aaraji told Future News TV.
He also said that "it is in Hezbollah's interest to have a caretaking government, because it would not be able to pass the issue of funding the Special Tribunal for Lebanon [STL]."
Another March 14 MP said on Saturday that Mikati's resignation is in the hands of Syria and Hezbollah.
"Mikati became prime minister by a decision taken by Syria and Hezbollah, therefore it is not up to him to resign," MP Ahmad Fatfat told Voice of Lebanon radio.
Fatfat also said that "Mikati is cornered because Syrian President Bashar al-Assad is cornered too."
Fatfat accused Mikati's allies of being behind his failure to be effective as a prime minister
Mikati has repeatedly voiced his support for the STL and on Thursday hinted that he might resign if his government fails to fund it.
"I refuse to be in the post where Lebanon fails to commit to its international obligations … I think by resigning, I would protect Lebanon," he told LBC television last Thursday.
Lebanon contributes 49 percent of the STL's annual funding but STL president who was in Lebanon until Saturday , said the Lebanese cabinet is 11 months late in fulfilling its obligation to fund the tribunal.
Mikati's government is dominated by Hezbollah and its allies, who are insisting that the country cease all cooperation with the Netherlands-based court which was set up to try the killers of former Premier Rafik Hariri
The STL has charged four Hezbollah operatives in connection with the Hariri assassination.
According to observers Hezbollah badly needs Mikati right now since he may be the only legitimate Sunni leader that is willing to serve in a cabinet that is dominated by the party and also because this cabinet is very important for the Syrian regime specially because the Arab sanctions may be implemented any time ".