Hariri: we will bring down this government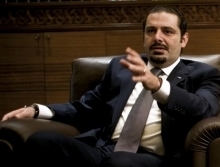 Former Prime Minister Saad Hariri said on Sunday on his Twitter page that the current government of Prime Minister Najib Mikati "should go down and we will bring it down."
Asked by one of his followers why the current government is supporting the regime of Syrian President Bashar al-Assad, Hariri replied: "Because this government does not represent the will of the people. It was appointed by Assad and Company to side with them on everything."
When Hariri was asked about whether he is waiting for the downfall of the Syrian regime to return to Lebanon he said: "I never said I was waiting for the regime to fall; I will be back sooner rather than later."
Regarding how he envisions the future of Lebanon based on what is currently happening in Syria, Hariri said: "I see a better future for Lebanon and the region and I think Lebanon will benefit the most. No more interference."
When asked about whether Lebanon should involve itself in a possible military attack on Syria, Hariri replied: " This Lebanese govt will help Bashar."
The former Prime Minister added that "the whole Arab world will benefit" if Assad's regime collapses.
Regarding the trajectory of the situation in Syria, Hariri said: "I don't think a war will break out they just try to scare everyone to protect the Syrian regime."
Asked about whether the government will pay Lebanon's share of funding of the Special Tribunal for Lebanon's (STL) funding, Hariri said: "Look we all know what [Hezbollah's Secretary General Sayyed Hassan ] Nasrallah said so playing smart with smart people is not good enough, put the cash in the bank."
The Special Tribunal for Lebanon is currently probing the 2005 assassination of former Prime Minister Rafik Hariri.
Four Hezbollah members have been indicted by the UN-backed court in Hariri's killing. However, the Shia group strongly denied the charges and has been refusing to cooperate with the court. http://www.nowlebanon.com/NewsArchiveDetails.aspx?ID=301886
Lebanon contributes 49 percent of the STL's annual funding.
Asked about whether Lebanon might witness incidents similar to those that took place on May 7, 2008, Hariri said: "No I don't think so and if they do they will be committing suicide."
On May 7, 2008 Hezbollah used its weapons during clashes with some pro-government factions, including Hariri's Future Movement and the Progressive Socialist Party (PSP) led by Walid Jumblatt.
Asked about whether he would ally himself with Jumblatt during the 2013 parliamentary elections, Hariri said: "Time will tell Walid was and still is a leader, and we differed in politics we can meet again too." Hariri also said in another reply that a meeting between him and Jumblatt "doesn't need paving by anyone, whether we agree or don't agree with each other we have always met." Now Lebanon