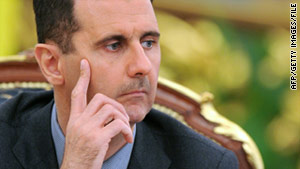 Israel sees cracks in Syrian power structures amid increasingly violent unrest, and there are signs President Bashar al-Assad may not be in power for long, Defense Minister Ehud Barak said on Saturday.
Barak said members of Syria's security services, the armed forces and the civil service were starting to assess Assad's future and were working out how to hedge their bets.
"As a result of it, I believe that we see for the first time, some cracks appearing in the support that he enjoys within his own arena," he told the Halifax Security Forum in Atlantic Canada.
Assad has come under growing international pressure to end the crackdown. Syrian authorities blame the violence on foreign-backed armed groups which they say have killed some 1,100 soldiers and police.
Barak said it was significant that King Abdullah of Jordan has called on Assad to step down and that the Arab League suspended Syria this month.
"That is a real signal that there is acceleration toward the end of this regime," he said.
Barak said the Assad family had reigned over Syrians for 40 years "like a medieval fiefdom in Italy somewhere on the mountains. It's an iron fist."
Asked about Assad's possible downfall and Syria's links to Hezbollah, Barak said: "It will damage these radical axes and they will make them somehow weaker. It will weaken Hezbollah, it will weaken Hamas.
"In this regard, it's good, but it's not just for Israel, but I believe it's good for the Middle East as a whole." Barak said
More than 4,500 protesters have been killed since the unrest broke out in mid-March, according to the head of the Syrian National Organization for Human Rights.