Syrian FM asks AL to amend the list of observers, LBC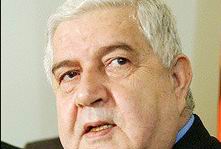 LBC has reported that Syrian Foreign Minister Walid Mouallem requested that Arab league to modify the list of the observers that will be sent by the organization to Syria, because Damascus has reservations about some of the people on the list , the places they will be visiting and the prisoners they will be meeting at the jails .
Secretary General of the Arab League (AL), Nabil Elaraby announced Friday that he had received a letter on Thursday evening from Mouallem which included amendments to the draft regarding the duties of the AL mission of observers to be sent to Syria, Syria state-run news agency SANA reported on Friday.
LBC also reported today that the Arab league chief is currently meeting with his top advisers to study the amendments proposed by the Syrian side
Meanwhile Syrian opposition members said Syria's stance was just a stalling tactic.
"We have warned in the past and we warn again that these are the methods of the regime to waste time," said Omar Idilbi, a Beirut-based member of the Syrian National Council, an umbrella group of regime opponents. "This is an attempt by the regime to gain more time."
President Bashar al-Assad`s regime is facing mounting pressure from home and abroad over the country's crisis, which appears to be spiraling out of control as attacks by army defectors increase and some protesters take up arms to protect themselves. The escalating violence has raised fears of civil war.
Assad facing an Arab League deadline of Saturday for implementing a faltering peace plan.
The Arab League which voted last weekend to suspend Syria's membership and take other sanctions against Assad's regime, had agreed to send 500 members of human rights groups, media representatives and military observers to the country.