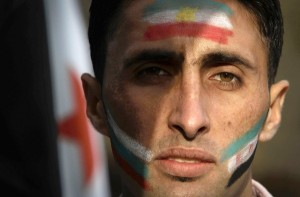 Opposition activists said Syrian security forces killed at least 17 people Friday as President Bashar Assad's government faced an Arab League deadline of Saturday for implementing a faltering peace plan.
Demonstrators across Syria chanted antigovernment slogans and called on foreign nations to expel Syrian ambassadors, a move that would further isolate Assad.
Damascus and Arab League representatives were said to be haggling about the terms of an observer mission to be sent into Syria, where human rights groups say security forces have responded brutally to eight months of largely peaceful protests. The Arab League suspended Syria from the 22-nation organization for having failed to implement the league's peace plan, which calls for the withdrawal of troops from towns and cities, the release of political prisoners and initiation of a dialogue with the opposition.
The plan also mandated that Syria allow independent monitors into the violence-racked country.
Syria has severely restricted access to journalists, human rights groups and others, making it difficult to know what is happening in a conflict that, according to the United Nations, has cost at least 3,500 lives.
The issue of independent monitors is a sensitive one for the Syrian government, which has repeatedly pointed to "outside interference" in instigating unrest. Damascus condemned its suspension from the Arab League, of which it was a founding member, as an illegal bow to "U.S.-Western agendas."
Still, Syria has pledged to welcome Arab observers. But Damascus said Friday that it was seeking unspecified "amendments" to the protocol governing an observer mission
The Daily Star, a Beirut-based English-language newspaper, reported Friday that the league had rejected a pair of Syrian conditions: that human rights activists be excluded from any observer delegation, and that only civilians working for Arab governments participate.
Opposition groups have called for the creation of a buffer zone in Syria to protect civilians. The Daily Star, citing unnamed diplomats, said neighbors Turkey and Jordan were preparing to set up such "safe zones" if Damascus does not comply with the Arab League peace blueprint.
Opposition leaders said the 17 people reported killed Friday included seven who fell victim to "huge shelling" in the southern city of Dara, where the protest movement began in mid-March. Three of the dead were children.
The government said "armed terrorist groups" had killed at least two law enforcement officers in Dara and in the western city of Hama. Damascus says more than 1,000 security personnel have been killed since March.