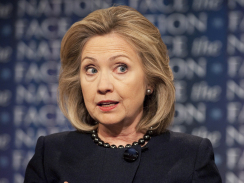 Beirut, Lebanon – Secretary of State Hillary Rodham Clinton warned Friday that Syria could plummet into a full-fledged civil war, echoing comments by her Russian counterpart a day earlier.
"I think there could be a civil war with a very determined and well-armed and eventually well-financed opposition that is, if not directed by, certainly influenced by defectors from the army," Clinton told NBC.
The Syrian opposition says that growing numbers of army soldiers have been deserting and switching sides. Defectors say they have formed guerrilla units and are attacking government outposts. Some other Syrians have also taken up arms.
"We're already seeing that, something that we hate to see because we are in favor of a peaceful … protest and non-violent opposition," said Clinton, who is in Indonesia for an ASEAN summit.
A day earlier, Russian Foreign Minister Sergei Lavrov told reporters that Syria "already looks like a civil war."
Opposition groups seeking to oust Syrian President Bashar Assad do not welcome talk of civil war. Such predictions, they fear, play into the hands of the Syrian leader.
His regime has endeavored to challenge the prevalent international narrative: the Syrian conflict as an instance of a ruthless government attacking peaceful, Arab Spring-inspired protesters seeking democracy. Assad says he sees the crisis differently, as a case of armed Islamist terrorists bent on imposing their will on a nation where diverse cultures and faiths have lived in relative harmony.
Quite explicitly, Assad cast the uprising as a "struggle between Islamism and pan-Arabism [secularism]" in an interview last month with Britain's Sunday Telegraph.
For months, the Syrian president has been warning that chaos and violence would follow if his government collapsed: "Tens of Afghanistans," as he told The Sunday Telegraph.
"Any problem in Syria will burn the whole region," he said.
The message is directed at two audiences: foreign states worried about a further fractured and radicalized Middle East, and Syrian minorities terrified about potential sectarian bloodletting. Especially worried are members of Assad's Alawite sect, an offshoot of Shiite Islam, and Syria's Christians. The latter group has taken note of the churches bombed in Iraq and burned in Egypt after the fall of secular leaders.