Analysts: Iraq's Syria stance is Sunni-Shiite related
Iraq's refusal to back Arab measures against Syria, which has since March been trying to crush a popular uprising, has confessional overtones and may boost sectarian division here, analysts say.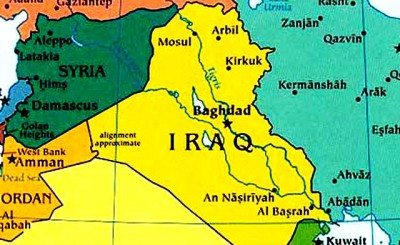 Iraq's refusal to back Arab measures against Syria, which has since March been trying to crush a popular uprising, has confessional overtones and may boost sectarian division here, analysts say.
Iraq now has a Shiite-led government, but was ruled by members of the country's Sunni minority for most of its history. Syria is ruled by minority Alawites, an offshoot of Shiite Islam, while protesters demanding reforms are largely from its Sunni majority.
More than 3,500 people have been killed in the conflict, according to U.N. figures.
Iraq has trod carefully in its response to the violence, and was the only country to abstain from a November 12 vote to suspend Syria from the Arab League.
"Our country is deeply confessionally divided, and the Shiites voted for (Syrian President) Bashar al-Assad," reacting along sectarian lines, said Hamid Fadhel, a professor of politics at Baghdad University.
"Sectarian divisions are already a reality here, with the desire of politicians to create Sunni and Shiite regions," Fadhel said of moves by Sunni-majority Salaheddin province, and earlier by Shiite-majority Basra, to form autonomous regions.
"The same thing that is happening here will arrive in Syria. Syria will be like Iraq and Lebanon," he said.
Various Iraqi Shiite leaders have said they support the freedom of the Syrian people, but at the same time condemned the Arab League suspension of Syria on Wednesday.
"Suspending Syria's membership in the Arab League came in an unacceptable way," Iraq government spokesman Ali al-Dabbagh said on Iraqiya television.
"We want complete freedom for (Syrians), but not in this forced way that moves the Syrian issue… to internationalization," he said. "This issue is very dangerous."
Iraq's anti-US Shiite cleric Moqtada al-Sadr said in a recent statement on Syria that "we support your demonstrations to show your opinion."
But at the same time he asserted that there is "a big difference" between events in Syria and other Arab states that have seen anti-regime protests this year, as "Bashar al-Assad is against the American and Israeli presence and his attitudes are clear."
Ali al-Saffar, an Iraq analyst at the Economist Intelligence Unit in London, said Iraqi leaders fear instability in Syria spilling over into Iraq, but that Baghdad's position on Syria risks increasing domestic sectarian divisions.
"I think they (Iraqi leaders) to some extent fear Assad being overthrown will empower the Sunni majority and that if there was any instability, that that could spill over… into Iraq," Saffar said.
Syria and Iraq share a 605-kilometre (375-mile) border, and Sunni-majority provinces along the frontier were strongholds of resistance against United States forces and the Shiite-led Iraqi governments that have followed the 2003 U.S.-led invasion that toppled Sunni dictator Saddam Hussein.
Saffar noted that Baghdad's position on Syria is at odds with its strong condemnation of a crackdown by Bahrain's Sunni government on protests led by the kingdom's Shiite-majority in March.
"The Iraqi government took a very strong stance against the violence in Bahrain, or at least it made the right noises back then," Saffar said, which contrasts sharply with its stance on Syria.
"It's going to be very difficult for the Iraqi government to venture, actually, that this is not a sectarian move, and that there are actually internal security implications that they're taking into consideration," he said, referring to Iraq's stance on Syria.
And if the government "is not managing to convince the Iraqi Sunnis that… this isn't a sectarian issue," he said, "then I think it's going to spread the (division) along Iraqi sectarian lines."
Political analyst Ihsan al-Shammari, meanwhile, said he believes Iraq is concerned by the stances of Sunni-ruled Gulf countries.
"Concerned that certain movements that are hostile to the political system in Syria and linked to Gulf states are becoming predominant, Iraq wants to impress upon those countries that it oppose their desire to intensify the crisis in Syria," Shammari said.
Arabiya