Free Syria Army gathers on Lebanese border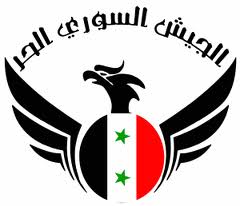 Somewhere along the emerald green ridge ahead Syrian troops guard the restive border with Lebanon. Behind them lie piles of upturned orange earth where land mines have been freshly buried. Ahead of them, across a deep, rain-soaked valley which spills into Lebanon, the rebels who were once their comrades in arms are preparing for war.
The rebels of the Free Syria Army who have found refuge on this volatile strip of borderland move freely around on motorbikes that are well within range of Syrian loyalist snipers. But they say they no longer fear their former army colleagues in the hills nearby. Instead, they are looking to them for help.
"There are 100 of them in the valley," said a former member of an intelligence unit who fled the embattled city of Hama in August and is now based in the Lebanese village of Nsoub. "But the day before yesterday I personally brought 30 people here." Of the troops still serving with the Syrian army, he said: "They helped."
Senior commanders have ordered their men to seal the border, but the sharp rise in defectors to have crossed into northern Lebanon in the past week suggests that many soldiers are already hedging their bets.
And Syria's growing isolation also seems to be invigorating the exiled defectors, who this week received about 70 men who were all sent on to safety within a day of crossing the border.
"We have been talking with them [the nearby troops] for many months," says a second man, a Lebanese national who lived in Syria for 25 years, but fled when the uprising started in March. "There are many who are waiting to see what happens before making their move."
This rag-tag group does not pretend to have a leader calling the shots. Like the rest of the nascent Free Syria Army, the rebels of north Lebanon appear to be a loosely formed force with no direction from any central command.
But someone in northern Lebanon is helping them co-ordinate an exodus, and plan for an escalation that they all say is now inevitable.
"Most of the [defecting] soldiers are not deployed in the places where they live," said the newly returned Lebanese man. "So when they get [into Lebanon] they are being sent on to cross the border [back into Syria] in the nearest area to their home."
Some of the group of 30 who arrived on Wednesday are thought to have been sent to Turkey, where they will then be redeployed to areas along the border near their home villages.
Once inside Syria the men will join the growing band of rebels, who have launched a string of attacks on regime forces, culminating this week in their most audacious operation so far: an assault on naval intelligence bases on the outskirts of Damascus.
The men say they don't know who paid for their journeys. "All I know is that I call members of the co-ordinating committee," said the defected soldier. "They come and get them and then I don't see them. There are definitely more [defectors] than there used to be."
Those who have fled say the situation inside Syria has now passed the point of no return.
When protests against the government of President Bashar al-Assad began earlier this year there was little overt animosity between the country's Sunni majority and the Alawite minority from which Assad draws his most loyal support. But after eight months of a brutal crackdown sectarian tensions have grown worse.
"Anyone who leaves is considered a terrorist," said the Lebanese man. "And it's mostly the Sunnis who are leaving, because they face persecution."
The defector, who served in an army intelligence unit in Hama, where tens of thousands were killed in 1982 by the regime of Assad's father, Hafez, said Sunni men were being tortured just for having beards. "Electricity, water anything," he said. "Very, very bad treatment."
The deteriorating situation inside Syria feels like a self-fulfilling prophecy. A sectarian divide that did not exist in March is now a dangerous faultline in many areas of the country. The former soldier said: "They are killing each other already. Sunnis are killing Alawites and vice versa. I personally saw an Alawite who was killing [Sunnis] in front of me."
"They have said it so many times that people now believe that the Sunnis are the troublemakers. It's all lies," said the Syrian villager.
"One of the officers told us after Ramadan that he had the wrong impression of us," said the Lebanese man. "He said he was told we were terrorists and bad people. Then he was taken away and interrogated and tortured for a month – all because he had good relations with us. Now Alawite officers have moved in and things are different."
The Alawite officers and their Sunni troops remain somewhere in the valley, which is an active smuggling route. Behind them is Semma Kieh, once a Sunni village which the exiled Syrians say serves as the regime's last outpost. The five men all say most Sunnis have been forced to flee, and regime loyalists, all members of the Alawite sect, have moved in.
Behind Semma Kieh is an Alawite village, then a Christian enclave. Turn left towards Homs and it's like that for 30 miles. The road right to Hama is the same. But this patchwork quilt of sects, loyalists and defectors is fast unravelling. I asked all five men whether war was now inevitable. All said it was.
Guardian