MP Ghanem denies discussing STL with Mikati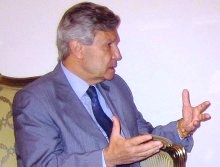 MP Robert Ghanem, head of the justice and administration parliamentary committee told Voice of Lebanon Friday that his latest discussion with Mikati did not include the issue of Special Tribunal for Lebanon.
MP Ghanem also said that their meeting was only about the issue of separating Parliamentary candidacy from ministerial one.
"A Deputy who wishes to become Minister is not allowed to become parliamentary candidate except after three or four years of ending his mission," he said.
Ghanem's statement comes after parliamentary source revealed to the Al Liwa newspaper on Wednesday that Mikati told Ghanem, Tuesday during a dinner that he hosted at the Grand Serail that his resignation letter will be ready if he cannot convince Hezbollah and its allies Amal and FPM to fund the Special Tribunal for Lebanon ( STL)
The source also revealed that Mikati's stance is in line with that of MP Walid Jumblatt and president Michel Suleiman who strongly believe that Lebanon can not tolerate any sanctions , given the ongoing transformations in the region , if it does not fund the UN backed court