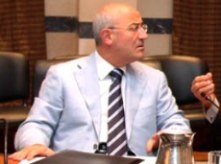 Minister of Public Works and Transportation Ghazi Aridi said on Thursday during a press conference that "the current government is undermining the people's interests."
"The cabinet asked Minister of Social Affairs Wael Abu Faour to request the Public Works and Transportation Ministry cancel a number of projects that were previously approved on by the cabinet," he said
"If things do not change, I will act according to my convictions," added Aridi.
Aridi announced on Sunday that he decided to boycott cabinet sessions "to object to the performance of the Finance Ministry regarding the transfer of funds to his ministry."
His criticism of the cabinet today comes after he said in an interview published on Monday that the current government is more politicized than the previous one headed by former Prime Minister Saad Hariri.
"There were many problems in Saad Hariri's government, but issues were not politicized as much as they are today," Aridi told Al-Balad newspaper.
Aridi also questioned "what Prime Minister Najib Mikati's position will be if the cabinet votes against the funding of the Special Tribunal for Lebanon."
"Will he respect the vote and the institutions, or will he resign?"
Four Hezbollah members have been indicted by the UN-backed court in the assassination of former Prime Minister Rafik Hariri. However, the Shia group strongly denied the charges and refuses to cooperate with the court. PM Najib Mikati has repeatedly voiced Lebanon's commitment to the tribunal, but according to report by al Rai newspaper there is nothing in the budget for STL funding
This error message is only visible to WordPress admins
Error: No connected account.
Please go to the Instagram Feed settings page to connect an account.