Aoun: Saudi King can resolve Syrian crisis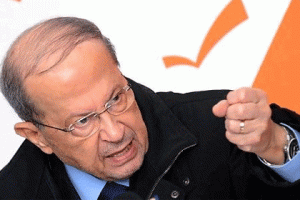 Change and Reform bloc leader MP Michel Aoun followed Speaker Nabih Berri's lead and said on Tuesday that Saudi King Abdullah bin Abdel Aziz can resolve the crisis in Syria.
On Sunday Speaker Berri sent a cable to the Saudi King urging him to resolve the Syrian crisis:" Only your majesty after God can help in reconciling the Syrians and the Arabs " Berri told the Saudi Monarch .
"There is still one person who can come up with a solution to Syria's crisis ; it is the Saudi King," Aoun also told reporters following his bloc's weekly meeting
The MP who is a staunch ally of the Iranian and Syrian backed Hezbollah militant Group criticized the Arab League member-states that voted in support of suspending Syria's membership calling their vote a "failing path."
"There is a big propaganda campaign taking place against Syria." Aoun stressed
Asked about Speaker Nabih Berri's statement which hinted that the possible collapse of Assad's regime would bring chaos to the Middle East, Aoun said that "each of us has his own perception " of the situation adding that the unstable situation in Syria "ended last week" and denied reports of daily killings by Syrian President Bashar al-Assad's security forces.
The Arab League voted Saturday to suspend Syria and warned that the country could face sanctions if it did not end its crackdown against anti-government protesters.
Syria, Yemen and Lebanon voted against the measure, and Iraq abstained.
The Lebanese leaders are divided over Lebanon's vote against the suspension of Syria's membership in the Arab league.