Syria: Arab League suspension "dangerous step"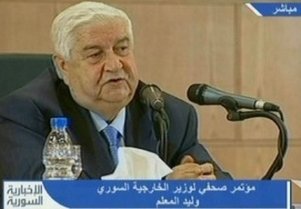 Syria said Monday an Arab League decision to suspend it was "an extremely dangerous step" at a time when it was implementing a deal with the organization to end violence and start a dialogue with the opposition.
Syria had withdrawn troops from urban areas, released prisoners and offered an amnesty to armed insurgents under the terms of the initiative agreed with the Arab League two weeks ago to end eight months of unrest, Foreign Minister Walid al-Moualem told a televised news conference in Damascus.
The United Nations says 3,500 people have been killed in Syria's crackdown on protests demanding the end to President Bashar al-Assad's rule. Damascus blames armed groups for the violence and says 1,100 soldiers and police have been killed.
Moualem described Washington's welcome of the Arab League move as "incitement." He apologized for attacks on diplomatic missions in Syria after the suspension was announced.
"As for attacks on foreign embassies, as the foreign minister I apologize for these aggressions," he said.
Moualem expressed confidence that Russia and China would continue to block Western efforts at the United Nations to condemn Syrian actions, and also played down the prospect of any Western military intervention in Syria.
"The Libya scenario will not be repeated," he said, arguing that Arab and Western countries knew they may pay a higher military price to confront the Syrian Army.
Moualem said Damascus was organizing a dialogue with opposition figures and "all elements of Syrian society," which he said were not all represented by the government or the opposition.
"We have reached the beginning of the end of the crisis," he said.
Syria called Sunday for an emergency Arab summit to discuss the unrest. Moualem said that if the Arab League ignored its request, it would show that the 22-member organization had "abandoned the Arab initiative" to resolve the impasse.
Reuters