March 14 visits border area in show of support for Syrian refugees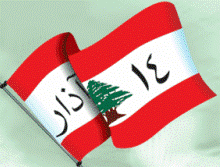 A March 14 delegation toured the area of Wadi Khaled in northern Lebanon near the Syrian borders on Saturday in a show of support for Syrian refugees who have escaped the Assad regime's brutal crackdown.
The delegation included:
MPs Nadim Gemayel, Antoine Zahra, Samir al-Jisr, Mouin al-Merhebi, Ahmad Fatfat, Badr Wannous, Hadi Hobeich, Khodor Habib, and other public figures and journalists.
"The aim of our visit is to send a message of peace and announce our solidarity with the Arab revolutions and in particular the Syrian revolution," March 14 general-secretariat coordinator Fares Soueid said according to National News Agency (NNA)
"We demand security for the refugees," he said, adding that "the Lebanese government should assume its responsibility towards what's going on the Lebanese-Syrian border."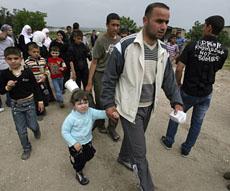 He said that Syrian refugees are pouring into Lebanon to flee "the oppression" in their country and the Lebanese government is responsible for providing security to the refugees.
Wadi Khaled currently hosts more than 3,000 Syrian refugees who have been complaining about the behavior of the Lebanese authorities towards them.
According to LBC television, the refugees said that "they are not allowed to move freely or travel to areas beyond the Shadra checkpoint." They also said that they are suffering from "lack of humanitarian aid."
The UN estimates that more than 3,500 people have been killed in the crackdown against Syrian pro- democracy protesters who have been demonstrating against the Baath regime since mid-March. Thousands have fled to Lebanon seeking refuge from the bloodshed.