Hamadeh calls on Lebanon cabinet to resign over AL vote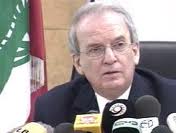 Reacting to Lebanon's vote at the Arab league against suspending Syria's membership over the bloodshed , March 14 MP Marwan Hamadeh on Saturday called on the Lebanese cabinet to "immediately" resign.
Hamadeh welcomed the decision of The Arab League after it voted Saturday to suspend Syria and warned that the country could face sanctions if it did not end its crackdown against anti-government protesters.
According to a statement issues by his office Hamadeh said the Lebanese cabinet has placed the country in "Arab isolation" in addition to its "national and international" isolation.
He also slammed the Lebanese delegation's "shameful" position at the Arab League's meeting in Cairo and criticized President Michel Suleiman, the parliament and the cabinet ministers for embracing such a "shameful position " .
18 of the Arab nations supported the move, while Lebanon, Syria and Yemen objected and Iraq abstained from voting.
Lebanese cabinet is dominated by Hezbollah , a close ally of Iran and Syria.