Seven natural wonders of the world to be unveiled at 19:07 GMT, update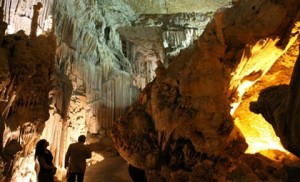 Polls for the world's new seven wonders of nature closed at 11:11 GMT, with preliminary results to be announced at 19:07 GMT.
Swiss foundation New 7 Wonders of Nature organized a world-wide poll in which anyone in the world could vote via telephone, text messages or Internet social networks for their favorite sites
Lebanon's Jeita Grotto is among the top 10 finalists according to poll results five days before voting ended.
Lebanon's nine competitors according to poll results of five days ago are: The Grand Canyon (United States), the Great Barrier Reef (Australia), Halong Bay (Vietnam), The Dead Sea ( shared by Jordan and Isarel), Jeju Island (Korea), Komodo Island (Indonesia), Puerto Princess Underground River (the Philippines), Sundarbans (Bangladesh and India) and Mount Vesuvius (Italy).
Jeita Grotto, an almost 10-kilometre cave system, was discovered in 1836 when an American clergyman stumbled upon the lower chamber. The discovery led to further exploration and the opening of sections of the site to visitors by the late 1950s.
Founded in 2001 by Bernard Weber in Zurich, the foundation New7Wonders is based on the same principle on which the seven ancient wonders of the world were established by Philon de Byzance in ancient Greece.
It aims to create a global memory by garnering participation worldwide.
But even as the natural wonders poll came to a close, the New7Wonders foundation has set its eyes on a new survey — the top seven cities of the world. Participating cities will be announced on January 1, 2012.
Beirut get ready !
Update: Preliminary results indicate that Jeita Grotto is among the top 14 finalists according to the organizers