Shibli al-Ayssami is in Syria, son says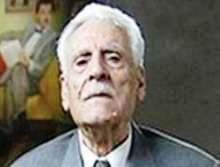 Bashar al-Ayssami, son of Syrian Baath Party co-founder Shibli al-Ayssami, said during an interview with Al-Jazeera television on Tuesday that his father is currently being held in Syria. Shibli al-Ayssami was abducted earlier this year in Aley, a summer resort town in Mount Lebanon.
Bashar al-Ayssami said his family "has confirmed information [retrieved] from witnesses [who saw the abduction taking place] and from people inside the Syrian regime, in addition to Lebanese officials, who have all said, unofficially, that my father was kidnapped in Lebanon [to serve the interest of the Syrian regime]."
"We are sure that he is in Syria," Bashar al-Ayssami added.
Shibli al-Ayssami was kidnapped on May 24, two months after the breakout of widespread anti-regime protests in Syria that has elicited a violent government crackdown on dissent.
Other Syrian nationals have also been kidnapped in Lebanon. On October 11, Al-Jumhuriya newspaper reported that Internal Security Forces chief Achraf Rifi told the Parliamentary Human Rights Committee that "members of the Lebanese security forces assigned to protect the Syrian embassy in Lebanon kidnapped Syrians using embassy vehicles."
In March, Syrian National Jassem Merii al-Jassem and his three brothers Chedid, Ahmad and Ali were abducted in Lebanon.
Now Lebanon