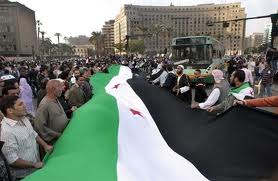 Angry Syrian protesters pelted a group of opposition leaders with eggs outside Arab League headquarters in Cairo on Wednesday, preventing them from entering the building for talks with the organization's chief about the violence in Syria.
The scuffle highlights the deep divisions within the Syrian opposition, which is struggling to overcome infighting and inexperience eight months into the uprising against President Bashar Assad's autocratic regime.
The protesters — apparently concerned the group would agree to a dialogue with the Syrian regime — threw eggs at a four-man delegation of the Syrian National Coordination Committee, headed by Hassan Abdul-Azim, as they tried to enter the Arab League's headquarters in downtown Cairo.
Members of the delegation, which were pushed and shoved by about 100 protesters, were forced to turn back.
Arab league officials said the delegation left to get a change of clothes and would return in a few hours time but an official said later that a member of the delegation was meeting with Arab League Secretary General Nabil Elaraby.
The National Coordination Committee is a rival to the broad-based Syrian National Council group formed in October, which rejects all forms of contact with the regime under the current crackdown. Some Syrians see the NCC as more willing to engage in dialogue with the Syrian leadership.
"No to dialogue with the regime," one protester shouted.
Syria agreed to a peace plan brokered by the Arab League last week, but officials say Damascus has since failed to abide by its commitments under the plan, including to pull tanks and other armor out of cities and stop the bloodshed that the U.N. estimates has left at least 3,500 people dead.
The plan includes a pledge to work on starting a dialogue with the Syrian opposition.
But the violence has continued unabated — more than 100 people have been killed in the flashpoint region of Homs in central Syria in the past week — prompting Qatar's prime minister to call for an emergency meeting Saturday to discuss Damascus' failure to abide by its commitments.
It was not clear what action the league would take if the bloodshed continues, although it could isolate Syria by suspending or freezing its membership. That would be a major symbolic blow to a nation that prides itself on being a powerhouse of Arab nationalism.