UN: Syria death toll has passed 3,500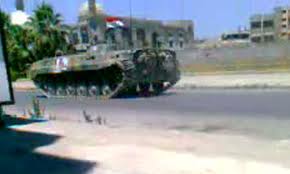 Syria's nearly eight-month-old uprising has cost at least 3,500 civilian lives, the United Nations reported Tuesday, in a tally based on figures gathered outside the country.
That includes dozens killed since last week's Arab League-brokered peace plan, and the passing of a major Muslim holiday on Sunday, according to the U.N. human rights office.
Ravina Shamdasani — a spokeswoman for the U.N. High Commissioner for Human Rights — said "more than 60 people are reported to have been killed by Syrian security forces since Syria signed the peace plan" sponsored by the league.
She told reporters in Geneva the tally includes 19 killed on Sunday during the Muslim holiday of Eid al-Adha, also known as the Feast of Sacrifice.
The U.N. figures are conservative and based on "credible sources on the ground," though the agency itself has no one posted in the country, Shamdasani said.
The government has largely sealed off the country from foreign journalists and prevented independent reporting, but amateur videos posted online and details gathered by activist groups have been filtering out.
Damascus had agreed under the Arab League plan to pull tanks and armored vehicles out of cities, release political prisoners and allow journalists and rights groups into the country.
Despite the release of more than 500 detainees on the eve of Eid al-Adha, Shamdasani said "tens of thousands continue to remain in detention and dozens are reported to be arbitrarily arrested and detained."
As a result, she said, the U.N. human rights office is "deeply concerned" that the violence continues unabated as the government continues to use tanks and armored vehicles to attack some areas.
Activists have reported that fresh attacks by Syrian troops on Tuesday morning killed two people in a rebellious neighborhood in the central Syrian city of Homs, as the military struggles to consolidate control over the district.
A key opposition group, the Syrian National Council, declared the city a "disaster area" on Monday and appealed for international intervention to protect civilians, as well as calling for Arab and international observers to oversee the situation on the ground. Homs has a population of some 800,000 and is some 100 miles (160 kilometers) north of the capital, Damascus.
Despite increasing international pressure, President Bashar Assad still has a firm grip on power and has shown no signs of moving to stop the crackdown on the uprising against his regime since mid-March.
He blames the bloodshed on "armed gangs" and extremists acting out a foreign agenda to destabilize the regime, portraying himself as the lone force who can ward off the radicalism and sectarianism that have bedeviled neighbors in Iraq and Lebanon.
AP