Hariri: Assad regime will never change unless it is changed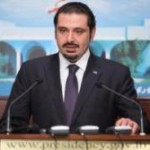 Former Prime Minister Saad Hariri asked his followers on the occasion of the Muslim Eid -al Adha to pray for the success of the Syrian people in toppling their regime and said he will return to Lebanon when the time is ripe.
"I think one has to persist peacefully, we did it in Lebanon and I am sure the Syrian people will prevail in the end," he said on Twitter fielding questions from his supporters. "Just pray for them."
"It's Friday (I am) sitting and watching what's happening in Syria, more blood (being) spilled for freedom by the oppressor after the Arab initiative," Hariri said, after several followers asked him about his stance on the latest upheaval in the neighboring country.
"I think by now the world should understand that this regime will never change unless it is changed," he said.
Turning to his presence abroad since April, he tweeted: "I miss Beirut and I miss Lebanon, but mostly I miss the people."
"Some people wouldn't like me to go back to Lebanon but I will go back and this time I am staying for good," he stressed.
In other tweet, he said: "I will go back to Lebanon when the timing is good."
The leader of al-Mustaqbal movement also told his followers that it was time to reach out to them.
"It's about time to make this more up close and personal, you'll be hearing from me more often and I'll be around as much as I can," he tweeted.