Gemayel: Time for Mikati to step down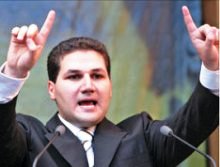 Phalange party MP Nadim Gemayel said on Wednesday following his meeting with Lebanese Forces leader Samir Geagea that it is time for the current government "to collapse and for Prime Minister Najib Mikati to step down and hand over his post to another person who is able to fully take care of its responsibilities."
He added : "We live in country without a government."
Gemayel also said that although President Michel Suleiman and Mikati voiced their support for funding the UN-backed Special Tribunal for Lebanon ( STL) " it is not up to them to decide on the issue", according to a statement issued by the Kataeb MP's office.
Regarding the issue of national dialogue, Gemayel said that factions affiliated with the Hezbollah led March 8 alliance "have no intention to hold dialogue."
Four Hezbollah members have been indicted by the STL in the 2005 assassination of former Prime Minister Rafik Hariri. The Shiite group Hezbollah strongly denied the charges and refuses to cooperate with the court. However, Mikati and Sleiman have repeatedly voiced Lebanon's commitment to the tribunal.
Lebanon contributes 49 percent of the STL's annual funding.