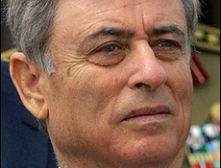 Syrians will have to take up arms in self-defense unless the world intervenes to protect civilians protesting against President Bashar al-Assad's rule, former Syrian Vice-President Abdul-Halim Khaddam said on Wednesday.
Khaddam, 79, who fled to Paris in 2005 after nearly 30 years of serving Assad and his father Hafez al-Assad, tried four years ago to establish a government-in-exile but fell out with other opposition groups.
Widely mistrusted by Syrian dissidents who recall his time in office, Khaddam plans to unveil a new group next weekend to support opposition efforts to oust Assad and create a democracy.
"If the international community does not react to stop these crimes and protect civilians, the Syrians will be forced to take up arms to defend themselves," Khaddam told Reuters in his first interview in Paris, where he had previously stayed silent.
Protesters in Syria are increasingly calling for foreign intervention in a seven-month crackdown in which the United Nations says more than 3,000 people have been killed.
There is scant appetite in the West for military action in Syria, and NATO has ruled out any Libya-style campaign there.
The Syrian protest movement has been largely peaceful, but a nascent armed insurgency has emerged in some areas and a colonel who deserted has set up a Turkish-based rebel army.
Khaddam, who lives in his luxurious house in a wealthy part of Paris under 24-hour police surveillance, predicted that an Arab League initiative aimed at halting the violence would fail.
"It calls for dialogue between Assad and the opposition, but not on the basis of the end of the regime. Conciliation has been rejected by the Syrian street and all the opposition," he said.
Syria sits at the heart of the Middle East, sharing borders with Israel, Lebanon, Turkey, Iraq and Jordan. In a recent interview, Assad warned Western powers they would cause a regional "earthquake" if they intervened in Syria.
"WEAK" CHARACTER
Khaddam, who resigned and quit the Baath Party in 2005, described Assad as too "weak" a character to be decisive.
Opposition figures distrust Khaddam because of his long Baathist past and the wealth he accumulated while in office.
He denied he had blood on his hands, saying he had been focused on foreign affairs when in government.
"It's true I was with Assad. I opposed internal politics, but I did not confront the regime because the sanction for those against it was either life imprisonment or death," he said.
"After I left I was the first person to call for the fall of the regime. I knew this regime could not be reformed."
Khaddam acknowledged he had no contact with the main opposition groups such as the Syrian National Council, whose de facto leader Burhan Ghalioun is also based in Paris.
However, he said his "National Committee to Support the Syrian Revolution" would encourage unity among Assad's disparate opponents, raise funds and lobby international powers.
"The overseas opposition will not topple the regime, it will be the revolutionaries in Syria. (Our job) is to support and not take its place," he said.