Aoun accuses Mikati of protecting corrupted people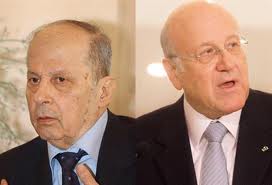 Free Patriotic Movement leader MP Michel Aoun said on Friday night that Prime Minister Najib Mikati is "protecting corrupted people in his society."
"I am not attacking [Mikati], but he is attacking me. I am telling him where the deficiencies are and he is not addressing them," he told Al-Manar television.
"Does he become a strongman by protecting violations?" Aoun asked in a reference to his repeated call for removing Internal Security Forces (ISF) Director General Achraf Rifi and ISF Information Branch director Wissam al-Hassan from their current posts.
Mikati reportedly said that Rifi and Hassan were appointed during his mandate in 2005 and that he is not going to remove them from their current positions.
The FPM leader also reiterated his "absolute rejection" of the funding of the UN-backed Special Tribunal for Lebanon (STL).
"When I reject [the funding], I reject it absolutely because conditions of payment are not available and I will not pay Lebanon's share [as a response to] foreign will," he said.
Hezbollah Secretary General Sayyed Hassan Nasrallah said on Monday evening that his party is against paying Lebanon's share of funding to the STL because of the international court's "aims, gaps and behavior."
Hezbollah and other March 8 parties and figures have spoken out against Lebanon's ties and funding for the tribunal and called it a tool to incite sectarian strife in Lebanon, however, Mikati has repeatedly voiced Lebanon's commitment to the tribunal.
Four Hezbollah members have been indicted by the STL for the 2005 assassination of former PM Rafik Hariri. However, the Shia group strongly denies the charges and refuses to cooperate with the court.
Aoun also said that the Arab Spring movement did not start yet but it will start after implementing political reforms in Syria.
"What is going on in the Arab world is not an Arab Spring, but rather a leap backwards and all solutions proposed are from the past. Solutions should be [inspired] by the future," he said.
"The regime in Syria is developing…and Syria held on because its people are united and want reforms," Aoun added.
The Arab Spring, also known as the "Jasmine Revolution," is a revolutionary wave of protests that has stormed the Arab world since December 2010. So far, the Egyptian, Tunisian and Libyan regimes have fallen, while Bahrain, Libya and Syria have experienced massive civil unrest. Now Lebanon