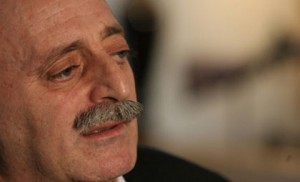 Al-Akhbar newspaper reported on Monday that Progressive Socialist Party leader MP Walid Jumblatt severely criticized the Syrian regime during a concert that he hosted for his friends in the city of Jbeil.
Jumblatt reportedly picked up the microphone and addressed his guests by saying :
"Unfortunately, we are now enjoying music while the Syrian people are revolting against oppression and tyranny."
"Shame on the Druze of Syria; they have always been at the forefront of all revolutions," he also reportedly said.
Only Al-Akhbar newspaper which is closely linked to Hezbollah and Syria reported on this issue for this reason Ya Libnan could not independently confirm the report
The Lebanese are split on the Syrian uprising . The march 8 alliance led by Hezbollah supports the regime of Syrian o- democracy protests President Bashar al-Assad's while the March 14 alliance is supporting the Syrian people in their pro democracy protests
Over 3,000 people, mostly civilians, have been killed in the Syrian government crackdown against the protesters
This error message is only visible to WordPress admins
Error: No connected account.
Please go to the Instagram Feed settings page to connect an account.