Murr: Mikati committed to international resolutions including STL funding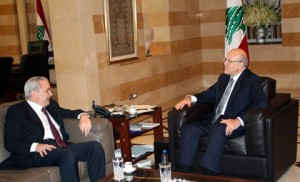 Following a meeting on Monday with Prime Minister Najib Mikati at the Grand Serail, former Defense Minister Elias al-Murr said that the premier is committed to international resolutions, including that of funding the Special Tribunal for Lebanon (STL).
Murr added Mikati will address the issue in the cabinet "at a suitable time."
"For me, I hope this issue [of funding the STL] will pass peacefully in the cabinet; otherwise the economic and political repercussions for Lebanon will be very critical." Murr said
Murr also said that if Lebanon's government decides not to pay its share of funding to the tribunal, then this will negatively affect the country's relations with international organizations.
The STL is financed by an assortment of donor countries from around the world as well as Lebanon. However, Hezbollah and other March 8 parties and figures have spoken out against Lebanon's ties and funding for the tribunal and called it an Israeli tool to incite sectarian strife in Lebanon. On the other hand Mikati and PSP leader MP walid Jumblatt have repeatedly voiced Lebanon's commitment to the tribunal.
The Iranian and Syrian -backed Hezbollah brought down PM Saad Hariri's government on January 12 over the Special Tribunal for Lebanon's (STL) imminent indictment.
The Special Tribunal for Lebanon issued the indictments and arrest warrants in the assassination of Lebanon's former PM Hariri on June 30. Two of the suspects Mustafa Badreddine and Salim Ayyash are reportedly senior members of Hezbollah and played leading roles in the assassination while the other two Hezbollah members Hassan Aneissy, also known as Hassan Issa, and Assad Sabra played a supporting role in the execution of the assassination.
Lebanon had 30 days to find and arrest the suspects but Hezbollah chief Sayyed Hasan Nasrallah said on July 2 that the party would not cooperate with the tribunal.
"No Lebanese government will be able to carry out any arrests whether in 30 days, 30 years or even 300 years." Nasrallah said