Hezbollah MP threatens March 14 MP during Human Rights meeting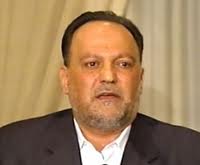 LBC television reported on Monday that Hezbollah MP Ali Ammar threatened March 14 MP Ahmad Fatfat during a meeting of the Human rights' Parliamentary committee.
According to Fatfat, Ammar told him " meet me in the street and I will show you ," the report stated.
LBC said that Future bloc MPs Fatfat and Khaled Daher argued with Ammar over accusations that Syrian opposition figures were abducted in Lebanon, adding that a fight almost broke out.
The Human Rights Parliamentary committee met on Monday and condemned the abduction of citizens and recommended the Lebanese judiciary take charge of the abduction cases, the television quoted Human Rights Parliamentary committee's chief Michel Moussa as saying after the session.
Al-Jumhuriya newspaper reported on October 11 that Internal Security Forces Director General Achraf Rifi told the Parliamentary Human Rights Committee that "Lebanese security forces assigned to protect the Syrian embassy in Lebanon kidnapped four [dissident] Syrians using embassy vehicles."
According to local reports the kidnappers were led by Lt. Salah Ali al-Hajj, the head of the Syrian Embassy guard unit. Hajj is the son of Maj. Gen. Ali Hajj, Lebanon's former ISF chief who was detained along with three other Lebanese generals for four years for alleged involvement in the 2005 assassination of former Prime Minister Rafik Hariri.