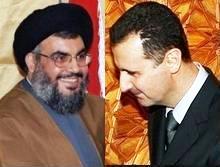 The embattled Syrian regime is largely "out of the danger zone" despite a 7-month-old uprising against President Bashar Assad, the leader of the Lebanese militant group Hezbollah said Monday.
The comments by Sheik Hassan Nasrallah, a steadfast ally of Syria, appeared to be an attempt to portray confidence that the regime in Damascus will recover from a popular revolt that has become the most serious challenge to the Assad family's four-decade dynasty.
"Is Syria out of danger? We can say, to a very large extent, yes," Nasrallah told Hezbollah's Manar TV station during an hours-long interview.
Mass demonstrations in Syria have triggered a brutal crackdown, with security forces opening fire on protesters, killing about 3,000, according to the United Nations. International pressure on Assad to stop the killing has been increasing, but the Syrian leader says terrorists are behind the unrest — not true reform-seekers.
The uprising in Syria has posed a serious problem for Hezbollah, which has largely supported the Arab uprisings as genuine revolutions because Hezbollah considers the now-deposed leaders of Egypt, Tunisia and even Libya as too close to the United States and the West.
Syria prides itself for being a bastion of resistance against the U.S. and Israel and has lionized Hezbollah. Syrians and Arabs around the region have in recent years elevated Nasrallah to the status of a nationalist hero after his guerrillas' 2006 war with Israel. Posters of the turbaned, bearded sheik are one of the top selling items in Syrian souvenir shops.
Since the uprising, however, Syrians have unleashed their anger at Hezbollah over its blunt support for the regime. Some protesters have set fire to the yellow flag of Hezbollah and pictures of Nasrallah.
On Monday, Nasrallah stressed that Assad has significant support in Syria. Assad's main base at home includes Syrians who have benefited financially from the regime, minority groups who feel they will be targeted if the Sunni majority takes over, and others who see no clear and safe alternative to Assad.
The opposition has yet to bring out the middle and upper-middle classes in Damascus and Aleppo, the two economic powerhouses, although protests have been building.
Nasrallah said the numbers of protesters was now "at its lowest" and predicted Syria will overcome the external pressures. He said Syria's recalling Monday of its ambassador to Washington, in retaliation to the withdrawal of the U.S. ambassador, was "a sign of strength."
He also said any NATO-style military action against Syria was far-fetched due to worries that it would lead to a regional war that may affect Syria's neighbor, Israel.
Syria holds a strategic position in the Middle East as a political keystone in the heart of the Middle East, bordering five countries with which it shares religious and ethnic minorities and, in Israel's case, a fragile truce. Its web of allegiances extends to Lebanon's powerful Hezbollah movement and Iran's Shiite theocracy.
A destabilized Syria, the argument goes, could send unsettling ripples through the region.
Syria also has a volatile sectarian divide, making civil unrest one of the most dire scenarios. The Assad regime is dominated by the Alawite minority, an offshoot of Shiite Islam, but the country is overwhelmingly Sunni Muslim.
Regime change in Damascus could cut off a major supply route for Hezbollah's weapons, heavily damage its political clout in Lebanon and knock out a third of the "Iran-Syria-Hezbollah" axis of "resistance" to Israel.
A Sunni-led new regime also would likely be far less friendly to the group.