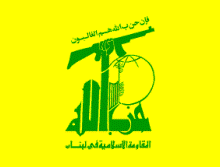 MTV station reported on Friday that Hezbollah threatened the residents of the upper Metn town of Tarshish after they had prevented the Shiite militant organization from installing its own private telecommunications network in the town.
MTV added that members of Hezbollah, who were installing a telecommunications network belonging to the party, were stopped by the municipality of Tarshish.
A delegation from Hezbollah arrived in Tarshish and met with the municipality to discuss the matter, the report said, but no agreement was reached
"They previously told us that because of the telecommunications network, the May 7, 2008 events took place… and today the same thing might happen again," an unidentified member of Tarshish's municipality quoted the Hezbollah delegation as saying during the meeting, according to MTV.
In May 2008, Hezbollah occupied the western part of Beirut and tried to occupy Mt Lebanon when the cabinet of former PM Fouad Siniora decided to remove the party's telecommunications network . Hezbollah reportedly lost more people during its failed effort to occupy Mt Lebanon than in the 2006 war with Israel and the son of Sheikh Naim Qassem Deputy Secretary general of Hezbollah was reportedly killed in the Mt Lebanon battle
Phalange party MP Sami Gemayel was outraged over the Tarshish incident and called Interior Minister Marwan Charbel to resolve the issue
"Charbel is working for a solution that suits both parties," Gemayel told MTV.
"We will not allow Hezbollah to harm people's dignity, and this network is dangerous for the security of Tarshish's residents because Israel will then bomb Tarshish. I hold the state, Hezbollah, the Interior Minister and the Prime Minister Najib Mikati responsible for anything that will happen in Tarshish," he added.