All U.S. troops to leave Iraq by the end of 2011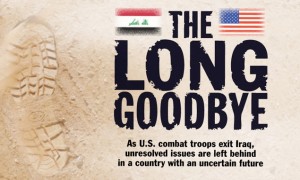 The Obama administration has decided to withdraw all U.S. forces from Iraq by the end of the year after failing to reach an agreement with the Iraqi government that would have left several thousand troops there for special operations and training.
President Obama and Iraqi Prime Minister Nouri al-Maliki spoke Friday morning to cement that agreement in a scheduled telephone call.
The two leaders also agreed to continue informally discussing the need for and the terms of a U.S. military presence in Iraq into next year, people familiar with the agreement said. As a result, the only U.S. military presence that will remain in Iraq after the end of the year will be the roughly 150 troops needed to protect the large U.S. Embassy compound in Baghdad and its thousands of American diplomats and other personnel, as well as provide training related to new military sales and other tasks.
"The rest of our troops in Iraq will come home at the end of the year," Obama said Friday at the White House. "After nearly nine years, America's war in Iraq will be over."
The failure to reach an agreement could pose security problems for the Iraqi government, still largely divided by sect and ethnicity, and for an Obama administration that inherited the war but has pledged an orderly withdrawal.
If sectarian strife or other violence should break out in Iraq once U.S. forces have left, Obama could be blamed, particularly by his conservative critics, for abandoning Iraq after nearly nine years of war before it was ready to protect itself.
But the result also allows for a more definitive conclusion to the divisive U.S. military operation in Iraq, which has cost nearly $1 trillion and more than 4,400 American lives. Obama, who separated himself from the crowded Democratic field in 2008 in part through his clear opposition to the Iraq war, will now be able to tell voters as he confronts a difficult re-election campaign that he has overseen the promised end to the Iraq conflict.
The plan conforms with the agreement negotiated by the George W. Bush administration to withdraw U.S. forces from Iraq at the end of 2011. But negotiations have been taking place for months between Obama administration officials and Maliki's government over how many U.S. troops should stay to continue training the nascent Iraqi national forces and monitor potential flashpoints, such as the boundary line between the Kurdish north and the rest of Iraq.
The U.S. military has conducted training exercises with all levels of Iraqi security forces, from local police to national army, but officials in both countries doubt Iraq's capacity to defend its borders. Obama's announcement came as Turkey engaged in counter-offensive strikes against Kurdish rebels in the semiautonomous Kurdish region of northern Iraq. The action is supported by NATO and the United States.
In the case of Kurdistan, total U.S. troop withdrawal could be positive "because [the Americans] are helping Turkey in the aggression," said independent Iraqi lawmaker Mahmoud Othman, who is from Kurdistan, in a phone interview Friday night. "So maybe it's better for them not to be around."
In the end, agreement on leaving some troops behind became a bridge too far, as Maliki was unable to persuade elements within his own coalition, and the United States was unwilling to make concessions that might have made the U.S. presence more palatable.
Months of discussion began quickly to unravel within the past two weeks, when Iraqi leaders agreed they would not grant immunity to troops that remain beyond the Dec. 31 withdrawal deadline. While the Iraqi government continued to state its desire for U.S. military trainers to remain, it became clear that, like other politically sensitive aspects of an ongoing presence, Maliki would not prevail on the issue within the government or Iraq's parliament.
U.S. Defense Secretary Leon E. Panetta responded that immunity was non-negotiable for the administration. U.S. officials said they were working on other options, including possible training outside of Iraq.
In a statement this week, factional leader Moqtada al-Sadr, a strong opponent of the U.S. presence in Iraq, said there must first be a complete withdrawal and that training would be allowed "only if a new agreement has been concluded once the withdrawal is completed and the oppressed Iraqi people are financially compensated."
During his presidential campaign, Obama criticized then-President George W. Bush for a withdrawal plan that would leave U.S. troop in Iraq until the end of this year. After taking office, however, Obama decided to comply with that date while implementing a more robust drawdown that decreased U.S. forces more rapidly than his predecessor envisioned.
Early this year, however, as concerns mounted over ongoing insurgent strikes and Iranian influence in Iraq, the administration made clear its willingness to continue tasks such as training, air defense, intelligence and reconnaissance, as well as joint counterterrorism missions with Iraqi forces beyond the withdrawal date. Throughout the summer, the White House urged the Iraqis to come up with a list of tasks they would like U.S. forces to continue, and informally spoke of leaving somewhere between 3,000 and 10,000 troops behind.
In August, Maliki's coalition agreed to allow formal negotiations to begin, even as U.S. officials cautioned that Iraq's precarious political and security situation could still derail agreement. While Kurdish and Sunni leaders pressed for an agreement that would allow U.S. troops to remain, Sadr and other opponents continued to oppose a deal, and the talks finally faltered on the immunity question.
On Thursday, the U.S. military closed the second of its three regional headquarters in Iraq, leaving 39,000 troops still to be withdrawn by the end of December.
In his announcement, Obama said "the tides of war are receding" and emphasized the more than 100,000 troops he has removed from Iraq and the withdrawal underway in Afghanistan. There are approximately 39,000 U.S. troops in Iraq today, and roughly 100,000 remain in Afghanistan.
"After a decade of war, the nation we need to build and the nation we will build is our own," Obama said.