UN chief slams Hezbollah arms, Syria's violations of lebanon borders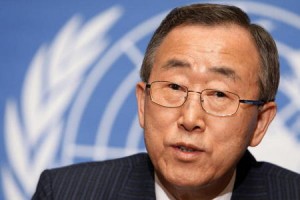 UN Secretary General Ban Ki-moon 14th semi-annual report on the implementation of Resolution 1559 was characterized by a tough stance on Hezbollah's weapons and the Syrian violations inside the Lebanese territory.
The report said that Hezbollah's weapons have become"a fundamental anomaly that is incompatible with Lebanon's high ideals of the protection of human rights and democracy."
He appealed to Hezbollah's regional backers – a reference to Iran and Syria – to aid "the transformation of the militant group into a solely political party."
The secretary-general lamented that steps to implement 1559 had come to a "quasi standstill" and cited the recent security lapses as evidence that Lebanon was teetering on the brink of serious disruption. "These events are indicative of growing security threats in the country," he wrote.
UN Security Council Resolution 1559 was issued in 2004 and called for the demarcation of a Lebanese-Syrian border in order to boost Lebanon's control over its territory. It also called for the disarmament of no-nstate groups.
In May and July, two separate bomb attacks close to the southern port city of Sidon wounded 11 U.N. peacekeepers and drew international condemnation.
The UN chief placed the burden of keeping his organization's troops U.N. Interim Force in Lebanon ((UNIFIL) safe at the door of "the Lebanese Authorities" and repeated his insistence that (UNIFIL) personnel be allowed freedom of movement in their mandated area of operations.
Syrian violations
Ban also strongly condemned "the violent incursions and raids by Syrian troops within Lebanese towns and villages, leading to people killed and wounded."
Ban called on the Syrian government to "put an immediate end to all such incursions and respect Lebanon's sovereignty and territorial integrity according to resolution 1559."