Turkey mourns its 24 slain soldiers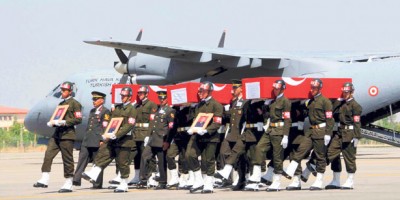 Turkish warplanes and helicopter gunships attacked Kurdish rebels Thursday, on the second day of an air and ground offensive against Kurdish rebels across the Iraqi border, the state-run television said.
Turkey launched a cross-border offensive against Kurdish rebels after they staged simultaneous attacks on military and police targets along the border Wednesday, killing 24 soldiers and wounding 18 others. About a dozen warplanes flew several bombing sorties out of two military bases in the country's southeast until sunrise, the state-run TRT television said.
The flag-draped coffins of the slain soldiers were being flown to several cities across the country on Thursday for burial.
The killings outraged many in Turkey and fueled nationalist sentiment. Many protesters, from high school students to post office workers, carrying huge Turkish flags and chanting anti-Kurdish rebel slogans, marched in Ankara on Thursday.
Several newspapers condemned the attack in banner headlines against a black background.
"24 martyrs, 74 million wounded," headlined daily Posta, saying that the killing of the soldiers hurt the entire population.
Yeni Safak newspaper's banner headline read: "Endless Pain."
In fresh violence on Thursday, suspected Kurdish rebels wounded three soldiers in a roadside bomb attack near the town of Altinova in southeastern Mus province, Gov. Ali Cinar. The three were in stable condition, Cinar said.
President Abdullah Gul and Prime Minister Recep Tayyip Erdogan vowed to respond the rebels in kind as the government mounted further pressure on Iraq and the Iraqi Kurdish administration to try to prevent the rebel attacks from Iraqi soil.
The conflict has killed tens of thousands of people since the rebels took up arms for autonomy in the country's Kurdish-dominated southeast in 1984. Kurds make up around 20 percent of Turkey's population.