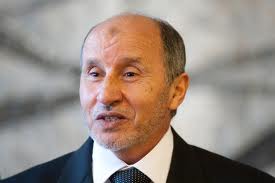 The chairman of Libya's National Transitional Council (NTC) will declare the country liberated from Muammar Gaddafi's rule later on Thursday or, at the latest, Friday, NTC prime minister Mahmoud Jibril said.
"Mr Mustafa Abdel Jalil will come out today or by maximum tomorrow, to declare the liberation of the country and to give out specific details regarding the killing (earlier on Thursday) of Gaddafi," Jibril told a news conference.
The declaration of liberation will signal the start of a plan to install a new government and build democratic institutions in the North African state ruled autocratically by Gaddafi for 42 years until his overthrow in August.
Jibril said that with Gaddafi having been killed on Thursday after his capture near Sirte, it was time for the Libyan people to make a new beginning.
"We confirm that all the evils plus Gaddafi have vanished from this beloved country. I think it's for the Libyans to realise that it's time to start a new Libya, a united Libya, one people, one future."
Asked what would be done with Gaddafi's body, he said: "It doesn't make any difference, as long as he disappears."
Jibril said he had unconfirmed reports that one of Gaddafi's sons, Saif al-Islam, was trying to flee from Sirte in a convoy of vehicles but had been tracked down by NTC fighters who were attacking the convoy.
He said Gaddafi had been in Sirte with Saif al-Islam and another son, Mo'tassim. "They thought it might be wise for all of them to be in one place for a final fight."
Other members of Gaddafi's family, including his wife, his daughter Aisha and two other sons, Mohammed and Hannibal, fled to neighbouring Algeria in August.
"We officially request from our brothers in Algeria (that they) hand over the rest of the Gaddafi family to the National Transitional Council so they will be judged in a fair trial," said Jibril.
He said that if they were returned to Libya, "we could know if they were involved in any fight or killing of the Libyan people since Gaddafi came to power, or at the very least, (we could ensure) the handing over of the money they have which we have proof of, in several banks around the world."
This error message is only visible to WordPress admins
Error: No connected account.
Please go to the Instagram Feed settings page to connect an account.