It's a baby girl! but Sarkozy misses the action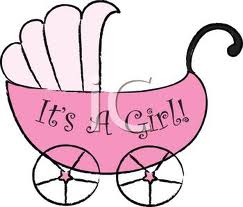 French first lady Carla Bruni gave birth to a baby girl on Wednesday, French media reported, her first child with husband President Nicolas Sarkozy and the first baby born to a French presidential couple in office.
Europe 1 radio and BFM television said Bruni gave birth at around 8 p.m. (1800 GMT) after being admitted earlier in the day to the La Muette maternity clinic in central Paris.
"For the moment we don't know the little girl's name," a source said, as the world's media gathered near the La Muette clinic in Paris and Sarkozy returned from talks on the future of the eurozone in Frankfurt. Sarkozy arrived at the clinic shortly before 11:00 pm (local time), just over three hours after the birth, AFP reporters outside saw.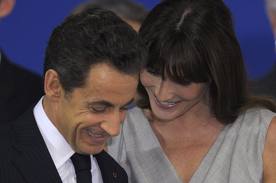 "It happened between 7:00 and 7:30 pm. Everything went well," a second source said. The staff at the clinic has been reminded of the strict duty of medical confidentiality, and Sarkozy's office was silent.
The girl is the French first couple's first baby since their marriage in 2008, although Bruni has one 10-year-old son from a previous relationship and thrice-married Sarkozy has three aged 14 to 26.
In an interview pre-recorded for a French state television broadcast due today, Bruni-Sarkozy said she had not known the baby's sex: "We've arranged for it to be a big surprise. Obviously, a nice surprise."
Sarkozy had earlier in the day visited his 43-year-old wife in the Paris clinic for half-an-hour, but was forced to jet off to Germany for crisis talks on the eurozone sovereign debt crisis before the birth itself.
Sarkozy was on his way back to Paris after a brief trip to Frankfurt for talks with his German counterpart Angela Merkel and EU officials on Franco-German efforts to put together a plan to stem the euro zone debt crisis.
France has been on tenterhooks for weeks over the impending birth, which could give Sarkozy's image a welcome boost just over six months before a presidential election opinion polls show he could lose to Socialist challenger Francois Hollande.
Sarkozy's popularity ratings have been stuck at just above 30 percent for months, despite his leadership on issues like the Libyan crisis, with many French angry at economic gloom and resentful of a leadership style many see as impulsive and brash.
An opinion poll by CSA published on Wednesday, the first since Hollande was picked at the weekend to run for the left in next April's presidential election, found Hollande could beat Sarkozy by 62 percent to 38 percent if the two faced off in a second-round runoff vote.
The poll gave Hollande 35 percent support for the first-round vote in April against 25 percent for Sarkozy.
A separate poll by Harris Interactive found that Sarkozy was still the best-placed candidate to run for the ruling UMP party, backed by 47 percent of respondents for a hypothetical UMP primary versus 19 percent for Foreign Minister Alain Juppe and 12 percent for Prime Minister Francois Fillon.
His daughter's birth coincides with one of the most crucial weeks of Sarkozy's four-year presidency as he battles to hammer out a plan with Germany to stem the euro zone's debt crisis before a self-imposed deadline on Sunday.
Pollsters say that as well as his handling of the euro crisis, the image Sarkozy projects to voters in the months ahead will be crucial for his reelection prospects next April.
Many in France found his high-speed courtship of Bruni, a singer-songwriter and former model, distasteful coming so soon after his divorce from his second wife, Cecilia, but Sarkozy kept carefully quiet about Bruni's pregnancy.
Media coverage has been incessant, however, a novelty in France, where a president's private life is usually kept private.
Sarkozy has three children from his two previous marriages, while Italian-born Bruni has a son from a former relationship.