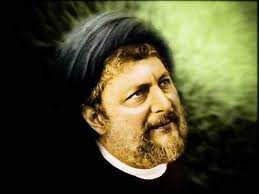 Tripoli's supreme military council chief Abdelhakim Belhaj told BBC Arabic that reliable reports indicate that the missing Imam Moussa al-Sadr was buried in a "farm" south of the Libyan capital, Tripoli
"We previously received information that Imam al-Sadr was moved to Sabha and then buried in al-Qalaa neighborhood," Belhaj told BBC adding that such reports confirm that he was buried in a farm.
"We are following up the information and we want to know the truth, which will be announced at the right time," Belhaj said
BBC journalist Firas Kilani was preparing a report about a farm where Moammar Gadhafi's forces had detained and beat him during his coverage of the uprising but was surprised when he saw a security team with dogs looking for mass graves and human remains .
The security unit reportedly tried to stop the BBC team from filming.
The farm is about 20 km south of Tripoli
The report indicated that the "farm that was being probed includes bodies for Libyan opposition members and African figures."
Imam al-Sadr, former chairman of Lebanon's Shiite Islamic Council, disappeared during a visit to Libya in August 1978 along with two of his aides. Libyan officials have said that al- Sadr left the country for Italy, while Italian authorities denied it.
The disappearance of al-Sadr, who had helped mobilise Lebanon's Shiite Muslim population by pressing for better social and economic conditions, strained relations between Libya and Lebanon. A Beirut court in 2008 summoned Kaddafi to answer questions about the case.