Karami: STL funding won't be approved by cabinet or parliament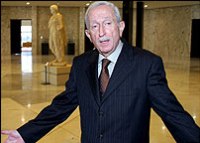 Former Prime Minister Omar Karami told An-Nahar newspaper in remarks published on Thursday that he does not think the cabinet nor the parliament will approve Lebanon's funding of the Special Tribunal for Lebanon (STL), which is investigating the 2005 assassination of ex-Premier Rafik Hariri.
"This issue must be resolved according to the law by the cabinet," he said
However, he added that he thinks the majority of the parliament will vote against funding the United Nations-backed court, which said it has enough evidence to indict four members of Hezbollah.
Karami , a close ally of Syria and Hezbollah said that PM Najib Mikati will not resign over the issue of funding the STL.
"Mikati will not resign from his post if there is no agreement on the funding, but he will say that he tried all possible means and through all institutions."
The Iranian and Syrian backed Hezbollah and its March 8 allies have opposed a clause in the Lebanese annual state budget pertaining to the funding of the tribunal, while Mikati has repeatedly voiced his support for funding the tribunal.
Observers have been speculating that if Mikati fails in convincing the cabinet of funding the Tribunal he will step down.
Observers also believe that the parliament is expected to approve the funding because MP Walid Jumlatt who commands a bloc of 7 MPs has repeatedly voiced his support for STL funding